We made a commercial this past spring with Robert Irvine, a chimp and a very funny comedic actor, Cory Jacob. Since we're ice machine experts and not casting agents, we really had no clue about the process of finding the perfect actor to play our "every man" Dan in our spot.
In our perfect scenario, the actor portraying Dan would be a hard working guy in his 30's.  He's an "average Joe" who owns a restaurant and is striving to do his best to succeed.  He just wants the best for his restaurant, employees and customers.  And here's the kicker: the actor must be a deadpan, yet hysterical, comedian.  With no speaking lines in the commercial, this is a difficult acting feat.
Our creative team in Los Angeles endured days of casting calls and the marketing Iceologist were sent the "dailies" (doesn't that sound Hollywood?) at the end of each day.  After one of the open casting days we received a call from our creative guys saying "we have the perfect Dan!".  And they were talking about Cory Jacob.  The minute we saw Cory's audition tape, we knew we had our Dan!
Cory's on the brink of stardom and we were really fortunate to work with him before he becomes the next Seth Rogan or Jason Bateman.  Marketing Iceologist Heidi caught up with Cory to learn more about his acting career, how he started in the business and the challenges of working with a primate.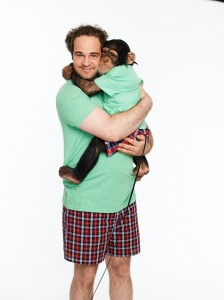 The Iceologist:  We were thrilled with your casting in our Get the Monkey Off Your Back commercial with Chef Robert Irvine and Bentley, the chimp.  Tell us how you got your start as an actor.
Cory:  I got my start as an actor being a middle child and fighting for attention.  I resorted to endlessly imitating characters on SNL and spouting Chris Farley and Adam Sandler movie quotes nonstop, much to the supreme annoyance of my parents.  I also was pretty sure school was just for me to try out material during class and interrupted teachers constantly.  I believe I still hold the record for most detentions in a year!  I had about 70 my 7th grade year.
The Iceologist:  I can totally picture you doing Chris Farley and Adam Sandler impersonations!  What was it like for you filming with a chimp?
Cory:  Filming with Bentley was literally a dream come true and he was a total professional!  Completely natural and an amazing improviser!  I actually have a bit of an obsession with the monkey family (Bentley, if you are reading this, I know you are a chimp, not a monkey. No offense, brotha!) and my whole bathroom is decorated with monkey stuff!  No throwing poop in my bathroom though!
The Iceologist:  Lol!  Your recent commercial for the NFL is on national TV all the time and plays during all the major football games.  Congratulations!  How has this national exposure helped your career?
Cory:  Lots of people call me "Gary" now, as a hilarious joke.  My hand writing is so bad that when I signed in at the audition the producers probably thought I wrote "Gary," but my name is actually Cory.  Cory Jacob.  Gary is a funnier name though, I admit.
To answer your question,I'm getting a lot more auditions now and for bigger things, which I'm pretty sure is a result of the NFL commercial.  I've received a few calls and emails for projects as well.  I'm very grateful and lucky for all the opportunities that have come my way my whole career and I've met some great people! You can keep up with my career at these websites, if you wish: Subscribe to my impressions and stand-up videos.  You can follow me for funny tweets and you can view up-coming appearances here.
I really appreciate all the love and support I've gotten from people!  Thank you!
The Iceologist:  Like many actors, you spent time working in restaurants to pay the bills at the beginning of your career.  Do you have any ice machine horror stories you can share?
Cory:  All ice machines are haunted, everyone knows that!  BUT, if you use Easy Ice's service I understand that they keep it ghost free as part of the contract.  So use Easy Ice, people!  You don't want a ghost haunting your restaurant OR to have Robert Irvine come rip your head off in one fell swoop because he's upset at your ice machine!
Robert is one of the nicest guys around and was a real pleasure to work with, but he will lose control of his emotions if he finds a ghost in your ice machine; its unsanitary and unprofessional.  Let Easy Ice handle the ghosts, so you don't have to worry about your ice machine and can concentrate on your business!