As our chat came to a close, Emily had the inspired idea of creating exclusive, icy recipes for Easy Ice.  Check back in a few days to get the recipes!
Iceologist:  What inspired your RetroRad POV?
Emily:  I'd known that retro rad hits a special heartstring with the masses because they constantly tell me! For one they feel comfortable approaching me and my retro rad point of view because they can relate!  Viewers constantly say that "Emily Ellyn reminds them of an updated version of their mom," that Ellyn brings back "the special memories," and most importantly  "inspires them to remember, revisit, and remake their old favorites!"  Retro rad is in all of us – we are all products of our past and are working on remixing to make better!
I started being Retro Rad at a VERY young age!  My aunt made me a poodle skirt when I was in grade school and I wore it until the poodle ran off!   I also would BEG my mom to draw cat-eyes on with eyeliner!  At about 10 my mom said it was time to learn about the entire era not just the cool fashion pieces!  She bought her and I matching pairs of saddle shoes and took me to a REAL American 1950s diner – sooooo retro rad!!  I fell in love!  I had a strawberry shake, cheeseburger and fried pickles…I also was allowed to feed the jukebox with quarters!
It resonated with me that when I put the glasses on and the neat dresses and I take myself to the times when it was easy and perfect!  Where perfect homes were effortless like during the times of "Leave it to Beaver!"  As a result I am embracing this Retro Rad persona and hope to give EVERYONE who tunes in a half an hour or an hour of that safe perfect space to be able to create, cook, escape or just be you!!
Iceologist:  What was the most exciting moment for you on Next Food Network Star?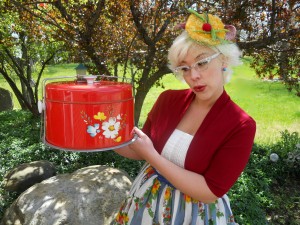 Emily:  My favorite challenge was the New York fashion week episode where finalists were asked to makeover new dishes!  Well, as we know from Season 8 taking the classics and updating them is my specialty.
I took the tired ham steak, pineapple and Maraschino cherry classic and gave it a makeover!  I made a fried ham, dried pineapple, and spicy pickled Maraschino cherry ham hat fastener for my head and every plate!  It was a hit with judges and viewers alike!
It was an amazing experience.  I am extremely grateful for the opportunity – I learned a lot on how these television shows are filmed, met a lot of great people from my mentor to cast members to meeting the amazing fans.
Iceologist:  Now that NFNS is over, what are your plans?
Emily:  The Next Food Network Star was an amazing opportunity and I am grateful that the Food Network helped launch my culinary TV career!  I am continually cooking up new projects which can be seen on my website EmilyEllyn.com.  I am working on launching webisodes, blogs and book while pursuing the television goal!  I will have a cookbook calendar out in September so keep tuned in to the website for details!
Iceologist:  Who is your favorite celebrity chef & why?
Emily:  Julia Child.  She was the female pioneer for all of us – she made this opportunity possible for me!!  Plus she was smart, beautiful and composed while keeping a great sense of humor while working in tough, awkward and stressful situations!
Iceologist:  What is your favorite recipe to make?  Favorite to eat?
Emily:  Ohhhhh man! Do I have to choose a favorite thing to eat?!  Too many options!!
Favorite Recipe to make is my Roasted Chicken with Crispy Sage Seasoning.  This is by far a dish that you can easily prepare and wow your guest with little effort ~ my comfort food!
**Check back next week when we'll post Emily's exclusive Roasted Chicken with Crispy Sage Season**
Iceologist:  What are the top 5 ingredients every home chef should have on hand at all times?
Emily:  Kosher Salt, Black Pepper, Onion, Vinegar and Olive Oil.  These are the foundations of almost every dish I make!
Also, if I had to choose one tool every home chef should have it would be… A PRESSURE COOKER!!  You can tear and break up food so I guess you would not need a knife or some of the little tools we heavily rely on, but a pressure cooker is a MUST!  It serves the purpose of cooking pot, sauté pan, fryer, canner and it will cook a roast in 30 minutes!
____________
We appreciate our time with Chef Emily — She is truly a FOEI (friend of Easy Ice)!  Check back for her exclusive EI recipes coming soon!