Fall's always brimming with festivities, but this year, customers are cozying up indoors more than ever. Bars and restaurants are finding innovative ways to safely serve customers during this season while still providing them with a great experience. Curating fun, festive fall cocktails for your menu is an easy way to help customers have their harvest at home.
Here are a few fall cocktails perfect for COVID-friendly carryout orders. These recipes work great for making single orders, but can also be easily produced in larger quantities for faster service on take-out. With new regulations on alcohol sales in place, we've included recommendations on sanitary, sealed drink containers that work great for fall to-go orders. We also matched each of the recipes to the perfect type of ice cube, allowing you to easily elevate your guests' experience.
Rosemary Maple Bourbon Sour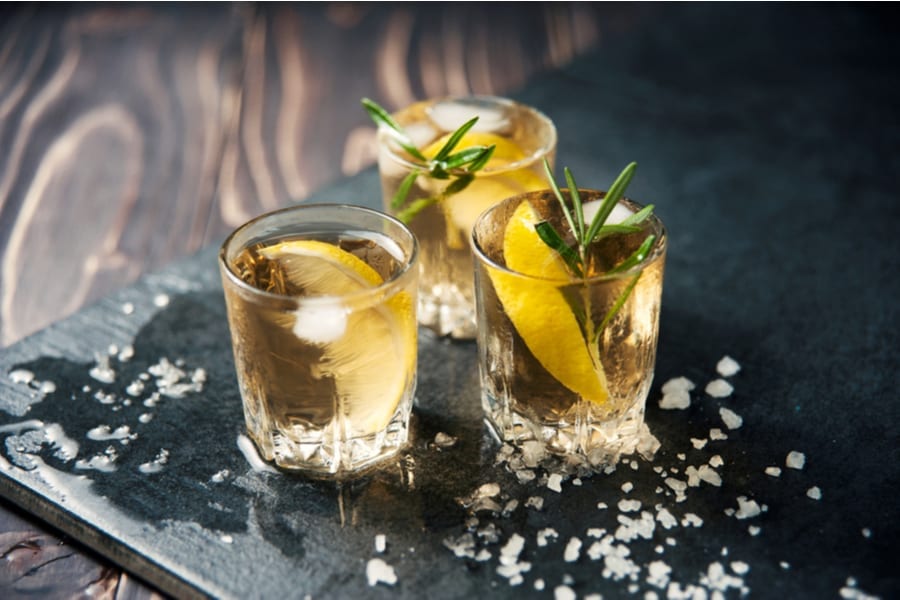 A twist on a classic, this fall cocktail is perfect for those first days of Autumn when you're looking for something to brighten up your day. Rosemary livens up the warm maple bourbon to give you a cocktail that pairs well with any to-go meal. Serve it in a sealed mason jar to provide your guests with a unique, safe experience!
Whether you're enjoying a weekend relaxing or unwinding after a long day, this fall drink is simple yet sophisticated, making it the perfect cocktail for any occasion.
Especially with takeout cocktails, slow-sipping beverages like this need a large ice cube that won't water it down. Hoshizaki and Manitowoc, two industry giants, make large square ice cubes designed with high-quality cocktails and spirits in mind. Even after a ride home in the car, a square cube keeps cocktails cool without watering them down.
Ingredients: (makes 2 drinks)
3 shots of bourbon
1 ½ shots of fresh lemon juice
¾ shot of dark amber maple syrup
1 large sprigs of rosemary
Instructions:
Crush the large sprig of rosemary in your hand and add to the shaker.
Add the bourbon, lemon juice, maple syrup, and ice to above the liquid level and shake vigorously for 15 seconds.
Strain mixture into rocks glasses with ice and garnish with remaining rosemary sprig.
Courtesy of: Country Living
Pumpkin Spice Moscow Mules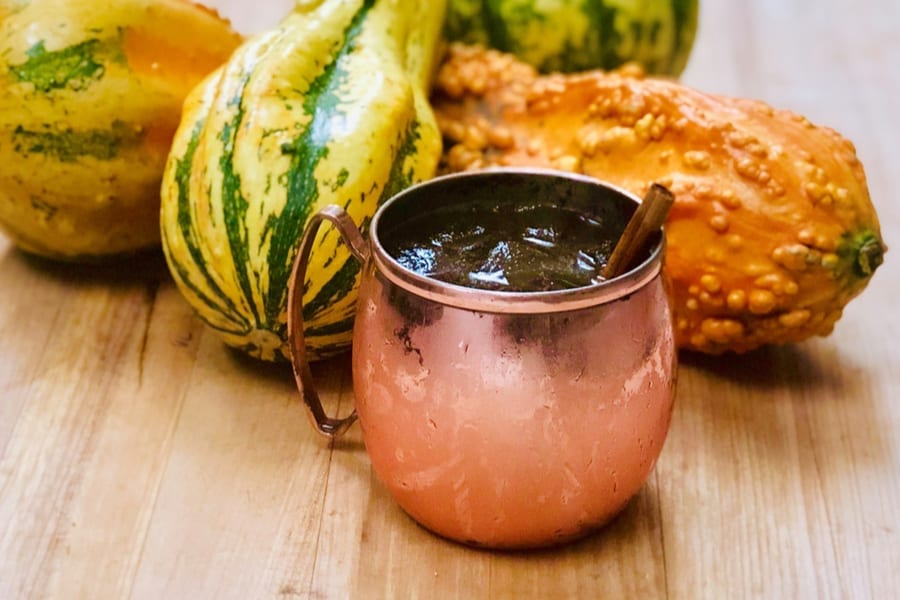 This strong, spicy fall cocktail is a sweet take on a traditional mule. Perfect as an after-dinner drink, vanilla vodka and pumpkin give your customers the decadent flavors they want to indulge in this fall. Those looking for a less sweet and stronger drink, swap out the vanilla vodka for traditional. While you'll be serving these to-go cocktails in a sealed container, consider selling copper mugs for your guests to keep, so they enjoy their mules properly at home.
Crescent or dice ice cubes work best for this fall cocktail, so it doesn't get watered-down by the time your customers get home. Both cubes have a large, classic shape making your mules look traditional even though they've got a sweet surprise!
Ingredients: (makes 2 drinks)
2-4 oz of vanilla vodka (or traditional vodka)
1 tablespoon of pumpkin puree
¼ teaspoon of pumpkin pie spice
Squeeze of lime
Spicy ginger beer to fill
Instructions:
Shake together vodka, pumpkin puree, pumpkin pie spice, and lime juice in a cocktail shaker.
Pour into a to-go container filled with ice and top with ginger beer.
Garnish with a sprinkle of pumpkin pie spice and serve.
Courtesy of: Freutcake
Boozy Cider Slushie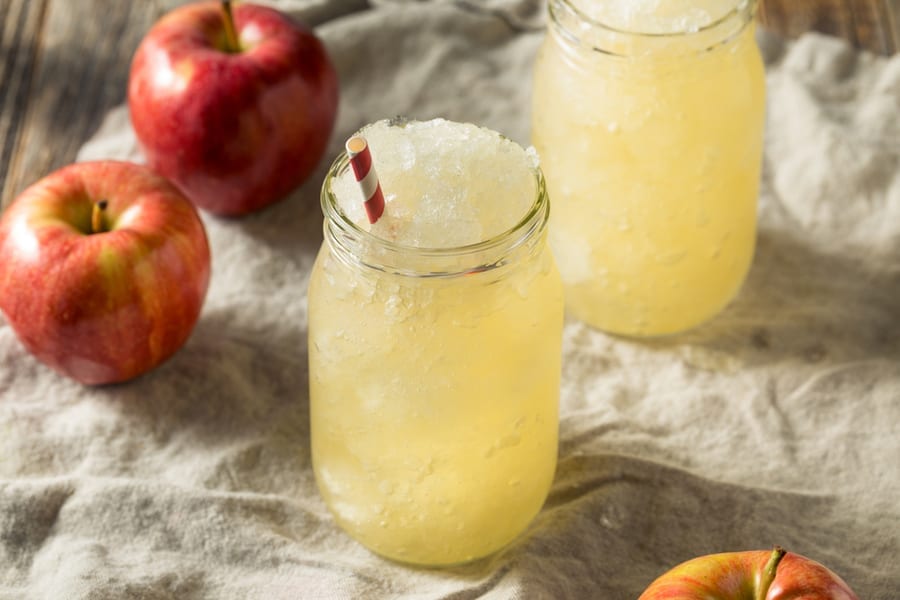 When the leaves start to change, gone are the days of enjoying fresh, frozen cocktails. Until now! New Orlean's hot spot Willa Jean is serving up frosty versions of traditional fall cocktail favorites. Here's a take on their Boozy Cider Slushie that's guaranteed to help your customers chill out at home this fall.
This drink has a signature frozen cocktail chill that brings out the crisp apple flavor while complementing the warm spices throughout the ingredients.
Making a slushie the right way starts with choosing the right type of ice cube. We recommend cubelet ice for this cocktail as these soft, absorbent cubes easily blend up to create the perfect frosty finish. Consider getting creative with your container for this fall fun slushie. Consider using innovative drinkware, like zipper-closed, sealable drink pouches, over plastic cups to give this a drink a unique look that customers will love.
Ingredients: (makes 2 drinks)
1½ cups of apple cider (divided in two)
¼ cup of bourbon
¼ cup of ginger beer
¼ cup of cold chai tea
¼ cup of lemon juice
Instructions:
Pour 3 cups of the apple cider into an ice tray and freeze until solid, 4 to 6 hours.
Once frozen, transfer the cider cubes and ice cubes (about half and half) into a blender with the remaining ingredients.
Blend ingredients together until it's a smooth slushie consistency.
Divide into pouches and serve (or freeze for later).
Courtesy of: Tasting Table
Elevate Your Carryout Experience with Ice
Bars, restaurants, and even hotels rely on creative cocktails to keep customers and guests coming back for more. Ice is an easy way to give your guest's refined fall cocktails while still staying on budget. Now more than ever, it's essential that your business saves money wherever possible. Our ice machine subscription program is a smart way to save money and time. We provide you with everything you need to have ice on hand for any cocktail for one low monthly payment.
Easy Ice covers equipment costs, maintenance, repairs, cleanings, and even backup ice for your business as a part of our subscription. If you're wondering what an ice machine subscription can do for your business, contact us today. Whether you need a small ice making machine or an industrial ice machine, you're only one step away from providing your customers with the best while saving your business time and money. Our subscriptions ensure your customers can get the festive fall cocktails they've been waiting for, even if they're enjoying them at home!