The weekend of April 18-20, 2015, 400 aspiring culinary industry professionals will descend upon the Disneyland Hotel in Anaheim, CA, to participate in National Pro-Start Invitational (NPSI). ProStart is a two year culinary and management curriculum operated by the National Restaurant Association's Educational Foundation (NRAEF) in partnership with 48 state restaurant associations (SRAs), as well as schools in US territories (Guam, Puerto Rico), and through US Department of Defense Schools abroad.
The ProStart program touts 120,000 students, from 1,800 plus schools, in either the management, culinary, or both programs – and Pro-Start continues to grow rapidly. Each year, state competitions send their champions to compete for national glory, but more importantly for the students, significant scholarships to top-shelf post-secondary schools.
Having attended the past three NPSIs (National ProStart Invitational) – and been the Co-Emcee of the past two culinary competitions – if you leave NPSI not being inspired, please proceed to the nearest urgent care facility for a heart test! What these kids….no…these young men and woman…. are able to do in both the Culinary and Management competitions is nothing short of amazing.  They are inspirational!
Those that place 5th and higher – are offered significant scholarship opportunities at schools like CIA (Culinary Institute of America), Johnson and Wales, Sullivan University and The Arts Institute, to name a few.  The competition – which is intense – provides them real life experience for the profession they are chasing.  And for the culinary competitors – in which a team of four turn out a full three-course meal using two Iwatani burners, no other powered equipment in a space defined by two 8 foot tables in less than one hour (exhausted just writing it!). Food Safety is worth more than 10% of their total score.
So you can bet that in the curriculum, in the classroom, and in the hundreds of hours of practice that the competitors put in – Food Safety is emphasized.  Many of these young men and woman are already ServSafe Manager Certified, attaining said status at the tender age of 16-18.  While competing in the Culinary Theater – Sanitation Judges will be watching their every move, in addition to other judges watching skills, teamwork, appearance, and so on.  When meal is done – tasting judges with hundreds of years' experience between them – share their critique and knowledge to help those young folks learn and grow.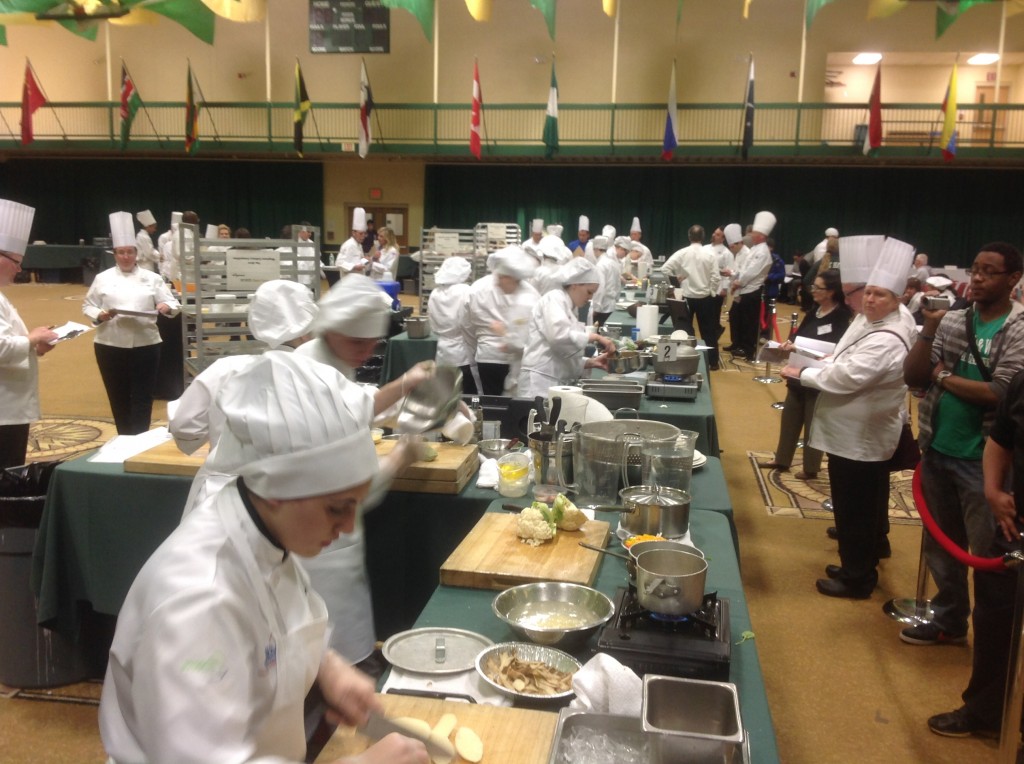 As the @FoodSafetyCzar (that's me, Kevin Scott) tells teams he meets at state competitions – Food Safety/Sanitation is the one score that they control; i.e., it is not subjective. So – don't lose any of those 15 points by failing to know the key foundations to safety; Personal Hygiene, Time/Temperature Abuse, and Cross Contamination.
We'd love to see you at Disney – but if you can't make it and still want to watch – the NRAEF offers a livestream of the culinary floor on both competition days. Details on the event can be found at the following link: Pro-Start National Invitational 2015.
And the @FoodSafetyCzar will be there on the floor on the mic with my partner in crime and co-emcee, Mr. Biff McCabe from the International Culinary School of the Arts Institutes. So give us a shout on Twitter. Biff's handle is @AiBiff . And you know my twitter handle, @FoodSafetyCzar. Oh – and these kids "can" really cook! Catch the livestream – you'll see how amazing these young culinary stars are!
Keep it safe!
More about ProStart:
By bringing together the industry and the classroom, ProStart gives students a platform to discover new interests and talents to open doors for fulfilling careers. It happens through a curriculum that includes all facets of the industry, and sets a high standard of excellence for students and the industry.