Delightful Treats bakery near Orlando is a dream for it's owners Hakan and Asli Ogun.  In only a year, it's one of the top bakeries in the Orlando area and Master Baker Asli has been asked to participate on Food Network's Cupcake Wars.
Asli brings her unique background in architecture and interior design to her edible creations.  She specializes in multi-tiered and specialty-structured cakes (up to 50" in height) using only the best ingredients and decorations.
Delightful Treats is thriving due to Asli's baking and Hakan's management. A reliable ice machine from Easy Ice is icing on the cake for their growing business!
The Iceologist:  Delightful Treats was recently named as one of the top 10 bakeries in the Orlando area.  What makes your bakery special?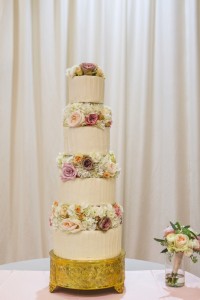 Hakan:  There are a lot of bakeries and cupcake places around here.  The big difference is in the fillings and frostings — most bakeries don't make their frosting from scratch.  I'd say the #1 reason we've become so popular is that everything is made from scratch and frosting is key.  My wife Asli creates amazing frostings that everyone loves; chocolate creamed cheese and butter-based frostings are favorites.
We're originally from Turkey and we serve authentic baklava.  This is the only item we don't make in-house — we import it directly from Turkey and we're the only bakery in Florida that has this type.  Many people think baklava is from Greece, it's not, it's from Turkey.  The process to make it is unbelievable!  The pastry sheets are so thin and they're made in huge sheets. We sell a lot of it (with authentic Turkish coffee).
The Iceologist:  What's your best-selling treat?
Hakan:  Cupcakes.  The chocolate chip cookie dough is probably our best seller.  And we make cake pops, which no one else (except Starbucks) has in the area.  On weekends we sell over 400 cake pops a day. Wedding cakes are Asli's specialty and we do a lot of custom cakes.
 The Iceologist:  How did you come across Easy Ice?
Hakan:  Delightful Treats is our first retail store.  At first, we were selling bottled sodas and then decided we needed ice and a soda fountain.  Our Coca-Cola rep told us about Easy Ice. He honestly said, "don't buy an ice machine — you'll have too many problems" and then he said, "your best bet is to get an Easy Ice subscription".  So, I called you guys and you were here the next day.
It doesn't make sense to buy an ice machine.  I was looking at spending $6000 to buy with only a year warranty.  It's hard to get service and dealing with it sounded like a logistics nightmare! Easy Ice is amazing!  I've only had one problem (minor) and a technician was out the next day…Perfect!
I've learned a lot about ice machines.  I didn't know ice machines could accumulate so much mold.  When your guys come to clean, I'm always amazed. If we bought our own ice machine, we'd never be able to clean it as well as Easy Ice.  Now when I go out to restaurants, I always ask when was the last time the ice machine was cleaned (laughing).