Refer a friend who has a business that requires ice and earn a cool $50 when they become an Easy Ice customer! We all know people who work at companies that use ice machines — they're everywhere!  Places you frequent like restaurants, theaters and health clubs all have commercial ice machines on site.
Easy Ice offers the simplest solution for companies that need a reliable source of ice: subscriptions. And you can be a superstar by telling your friends about us and earning a little cold hard cash in the process.
If you have friends who work in restaurants and bars, you may have heard horror stories around ice machines. They are notoriously fickle pieces of equipment requiring specialized maintenance and repairs.  Commercial ice machines are little factories with varying temperatures, water and a lot of moving parts.  And if these mini-factories are not cared for properly, the ice production will halt.  The stress an employee or manager feels when the ice machine isn't producing and they have a restaurant full of guests is immense! Not to mention the costs to the business.  They have to purchase replacement ice and pay for repairs, which can get very costly.
At Easy Ice, we understand the hassles and costs associated with ice machine ownership, that's why we developed affordable, all-inclusive subscriptions.  Simply put, we eliminate the stress and financial burdens by supplying businesses with a new commercial ice machine that we fully maintain.  Preventive maintenance and sanitation are part of our solution.  Plus we take care of all repairs and supply our customers with free backup ice if we can't repair the ice maker in a timely fashion.
Help a friend by telling your friends about Easy Ice's end-to-end ice machine solution! You're not only being a good friend, but you also get a reward when they become a customer.  Who wouldn't want to assist a buddy And earn a little extra cash?  Remember, ice machines are everywhere, not just in hospitality settings.  Schools, office buildings, physical therapy clinics, nursing homes, churches, golf courses, convenience stores and contractors all use commercial ice makers.  And we're sure you know a friend or two in some of these industries! So have fun talking up Easy Ice and earn some spending money.
How to refer a friend: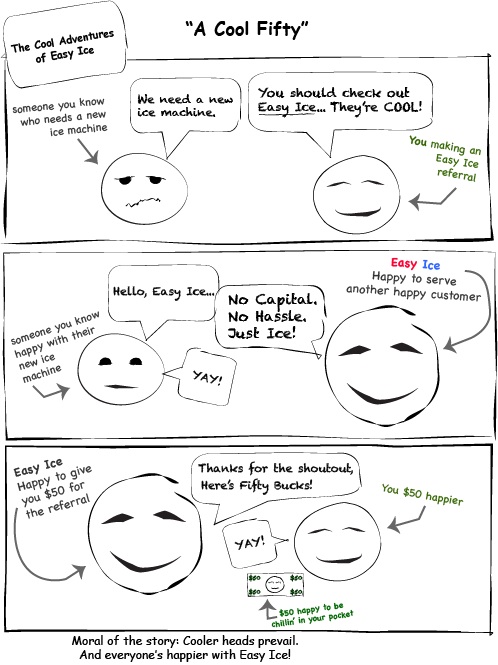 If you're already an Easy Ice subscriber, we have a 
Customer Referral program
 that'll save you money.  For every business a customer refers who becomes a subscriber, we'll give you a free month on your ice machine subscription.