When it comes to the cost of ice, subscription payments are Hassle-Free!
The preferred payment method for your monthly subscription fee and setup fee is by credit card. Easy Ice will charge your card for the amount of your subscription on the first business day of the month. The cost of ice has never been easier to get under control.
Other acceptable payment methods are echeck or Electronic Funds Transfer, to be issued on the first business day of the month.
Our entire program is built around being the easiest ice machine solution in the country. Subscription prices are fixed as long as you have the ice machine on site — no hidden costs!  
Unlike many expenses, like credit card statements, there is nothing for us to itemize for our customers. Everything you need to keep ice in the bin is set at a flat rate.  
Your monthly subscription fee is fixed.  Of course, if you order Peak Ice, upsize ice making equipment or require additional cleanings, you will be charged for those items.  Please note:  sales tax may increase periodically, thus nominally increasing your monthly payment amount.
Predictable expenses are what our customers crave, and we give them predictability in our service, support and billing.  No hassles, just ice at the right price!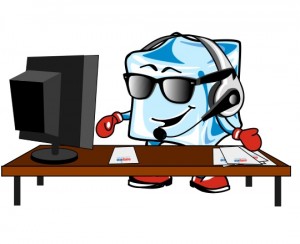 If you have questions or billing issues, our customer support team is available 24/7 to assist you. Simply call our toll-free number, 866-easyice (866-327-9423), anytime to speak with a customer care specialist.