$129 A MONTH FOR 600 lbs. of Ice a Day
Contact Us to Learn More
We are the only national company offering a comprehensive subscription service for commercial ice machines that includes all repairs, preventative maintenance and much more!
Robert Irvine
Celebrity Chef and Restaurant Makeover Expert
"Restaurant owners should never buy an ice machine. Long term and hidden costs make commercial ice makers a poor investment. An ice machine subscription from Easy Ice is
Smart

...

Simple

...and

Stress-Free

."
Smart

"Some months I was spending $600 just for replacement ice. Plus all the repairs & maintenance were coming out of my pocket. Now, I have no surprises. You guys do a great job with maintenance, cleanings and repairs — better than we could ever do! Easy Ice is in my delightful column"
Easy Ice is the only company with a national presence that gives you a

100% Lifetime Guarantee for a Commercial Ice Maker.
Successful business owners invest their capital in assets that generate a return—and ice machines fail that test. That is why previous owners of ice machines are making the switch to the Easy Ice subscription model.
Our solution is simple. For a nominal setup and fixed monthly fee, we provide:
Top of the line Hoshizaki commercial ice machines, bins, and dispensers
Free standard water filters for commercial ice makers
All preventive maintenance including 2 comprehensive ice machine cleanings per year
All repairs, including parts and labor, included with subscription
Breakdown Ice: Complimentary food-grade quality ice if the ice machine is broken
24/7 customer service
Simple ice machine upgrade program and no-penalty, 30-day cancellation policy for qualified customers
Less than $4.25 per day for 600 lbs of ice.

No Capital. No Hassle. Just Ice.
Featured Blog Posts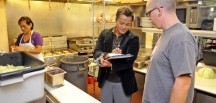 Food safety is an important topic to Team Easy Ice. And it should be important to you too — especially when you dine out and have less control. Food safety includes ice safety. Unsanitary conditions, mishandling of ice or a dirty ice machine can cause food borne illness, just like…well…food! To emphasize the importance of […]
Read More