All-Inclusive Subscriptions Featuring a Hoshizaki Ice Machine
Get a top-of-the-line Hoshizaki Ice Machine installed at your business.
With a reputation for producing the world's most perfect ice, Easy Ice is pleased to offer a wide range of Hoshizaki commercial ice machines, storage solutions, dispensers, and stands to fit your needs.
Why use Hoshizaki?
Hoshizaki ice machines produce clump-resistant ice cubes that last longer than cubes produced by most other commercial ice machines. Our partnership with Hoshizaki means we can offer a wide variety of their commercial ice machines, producing anywhere from 200 to 2,000 pounds of ice per day. The unique cubes produced by Hoshizaki ice makers displace water more effectively, preventing liquids from splashing. This often means decreased waste and increased revenue for your business.
A premier manufacturer of high-quality and reliable ice equipment for every industry, Hoshizaki is also an ENERGY STAR 2017 Partner of the Year. They demonstrate sustained excellence and a dedication to providing energy-efficient ice machine models.
Our large selection of Hoshizaki ice machine and bin options include:
Air-cooled ice machines
Water-cooled ice machines
Remote condenser ice machines
Hoshizaki ice dispensers
Hoshizaki ice bins
Which types of ice are produced by a Hoshizaki Ice Maker?
Ice cubes come in a variety of shapes and sizes. We carry Hoshizaki ice machines that produce four types of ice: crescent cubes, square cubes, cubelet (chewable), and flaked ice.
Hoshizaki crescent cubes are one of the most popular, and perfect for beverage applications. They are clump-resistant, hard cubes that are individually formed and dropped. Crescent cubes can be scooped or dispensed through a soda fountain or ice dispenser.
Hoshizaki square cubes are a favorite of many bars and restaurants that serve cocktails. Hoshizaki is renowned for its IM-500 commercial ice machine, which produces a clear, hard, individually formed square cube. Many of our customers specifically request these square ice cubes because they melt slowly and don't dilute the cocktail, which can alter the taste of the drink.
Hoshizaki cubelet ice is small and chewable, often referred to as nugget ice. This is the type of ice you'll find at Sonic restaurants and in hospitals, care facilities, and schools where chewable ice is often preferred.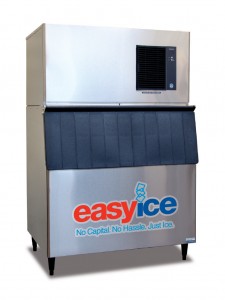 Hoshizaki flaked ice is also soft and chewable, but much smaller than cubelet ice. Its delicate snowflake-like texture and appearance makes it perfect for food displays. You'll often find flaked ice on display in delis, seafood counters, and salad bars.
Ready to combine the quality of a Hoshizaki ice maker with the convenience of an Easy Ice all-inclusive monthly ice subscription?

Why Partner with Easy Ice?
Easy Ice is the nation's leading provider of Hoshizaki ice machines to businesses across the country. Starting at only $155/month, you'll get top of the line Hoshizaki ice makers, including delivery, maintenance, repairs, and 24/7 customer support.

Customize Your Ice Supply
Every business is different. That means you'll have different quantity, storage, and ice type requirements. We'll customize a subscription including just the right Hoshizaki ice machines and storage solutions, plus dispensers and any other accessories to meet the needs of your business.

Delivery and Installation
No more ice induced headaches. When you partner with Easy Ice, we deliver and install your requested Hoshizaki ice machine, storage, stands and dispensers for you. For an additional fee, we can even remove and dispose of any existing ice making equipment on the day of installation.

Regular Upkeep
Get preventive maintenance and deep cleaning with every Easy Ice subscription to ensure your Hoshizaki ice makers and dispensers are always clean, safe, and reliable.

Repairs Included
With your monthly subscription, covered repairs including parts and labor are free of charge. You'll even get complimentary breakdown ice to keep you going until your Hoshizaki ice maker is back up and running.

24/7 Customer Support
Running a business is hard, and dealing with a finicky ice machine doesn't make it any easier. That's why we offer 24/7 customer support to answer questions, walk you through any issues, and dispatch a technician to your location when you need it.

No Long Term Contract
While we choose to partner with businesses who want to develop a long-term relationship, should you ever need to cancel your service, we require only a 30-day cancellation policy for qualified customers.

Nationwide Delivery
There is a reason why Easy Ice is the nation's leading provider of ice machines to businesses throughout the country. Multiple locations are now easier than ever to manage with an Easy Ice subscription. When all of your Hoshizaki ice machines are provided by Easy Ice, you have one bill, one point of contact, and one high standard for cleanliness and quality products across all of your locations.

Simplify Your Ice Supply
With one low monthly fee, each Easy Ice subscription includes the best commercial ice machines and storage equipment, plus delivery & installation, repairs & maintenance, and 24/7 customer service for your business.
Are you ready to revolutionize your ice supply service?