Ice cubes come in a variety of shapes and sizes:  cubed, chewable and flaked.
We offer our customers Hoshizaki ice machines that produce all three types: Cubed Crescents, Solid Square Cubes, Chewable/Cubelet or Flaked ice. Crescent cubes are the most popular and perfect for beverage applications.  Hoshizaki ice cubes are crescent shaped and crystal clear.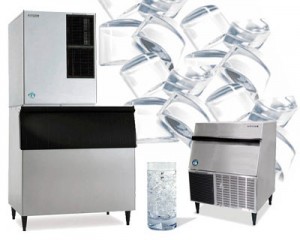 Our cuber ice machines produce clump-resistant, hard cubes that are individually formed and dropped.  Crescent shaped cubed ice can be scooped (behind the bar) or dispensed (soda fountain).  Ice cubes from Hoshizaki commercial ice makers are also splash resistant.  This means when you're pouring a drink, no profits are lost from spillage.
Cubelet (also known as Chewable or Nugget) ice is small and chewable.  In the Southern states, you'll hear folks talk about their love of Sonic ice.  Sonic franchises use Cubelet/Nugget ice for their customers.  Cubelet ice machines are ideal in hospital environments.  
Cubelet ice is what hospitals serve patients.  Some people enjoy cubelet/nugget ice in their drinks.  Besides hospitals, you can find cubelet ice makers in schools, restaurants and bars.
Solid square ice cubes are very popular for cocktails.  Hoshizaki's IM-500SSA commercial ice machine is the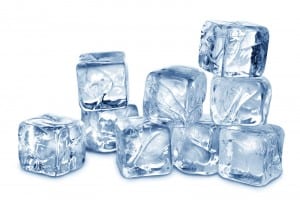 leader for square cubes. Classic cocktail aficionados prefer square ice cubes in their drinks because they melt very slowly and don't dilute or alter the taste of alcohol. 
Some people just love to eat ice, as the Wall Street Journal recently reported.  Ice as a meal. That's extreme dieting!
Flaked ice is even smaller and it's soft and chewable.  It's light and snowflake-like look and feel are ideal for food displays.  You'll find flaked ice in delis, seafood counters, salad bars and marinas.
Crescent Cubed, Square Cubed, Cubelet or Flaked — we've got them all!
Note:  Ice machines that produce flaked ice require a 3-year agreement.  Please contact Customer Service for details at 866-easyice.