Superior Ice Machine Maintenance and Repairs in Kansas City
If you own a commercial ice maker, you need a service provider you can trust. You need Easy Ice. We're the ice machine experts in the Kansas City metropolitan area. We provide the highest quality preventive maintenance, cleanings, and repairs for commercial ice machines in the city, specializing in Hoshizaki and Manitowoc equipment.
Our team is available to help you get started today.
You can give us a call or request a quote online.
Leave Your Ice Machine in Good Hands
Easy Ice technicians are experts. They're highly trained ice machine specialists who only work on commercial ice-making equipment. They know how to deep clean your ice maker the right way, how to recognize mechanical warning signs, and how to fix problems in a single visit. 
If you want the best commercial ice machine service in Kansas City, call on Easy Ice.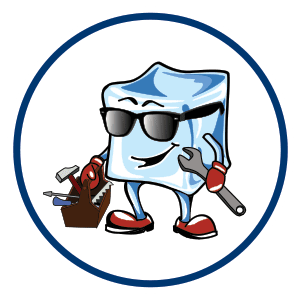 We Keep Your Ice Machine Clean and High-performing
When your ice machine is due for a cleaning or needs repairs, you want to make sure you get the best value for your money. Easy Ice gives you that every time we service your equipment.
What sets us apart from the competition?
Expert Ice Machine Knowledge

Easy Ice technicians aren't HVAC or refrigeration professionals who work on a variety of commercial appliances. They're ice machine specialists. All they work on is ice makers like yours, day in and day out. That makes them the most qualified ice machine technicians in Kansas City.
Professional Cleaning and Sanitizing of Ice Machines and Bins

Ice machine cleanliness makes the difference between safe ice and unsafe ice. We know how to clean your ice machine properly inside and out, and we'll do it right at every appointment.
Preventive Maintenance That Pays Off

The average lifespan of an ice machine is 5-7 years, but many of our ice machines have been active for 15 years or longer. That's thanks to our preventive maintenance procedures. Our technicians know how to recognize signs of brewing trouble in your ice machine and can address them before real problems happen. They're trained to tune up your ice machine in Kansas City to prolong its life and maximize its performance.
Accurate Diagnostic Testing

If there's something wrong with your commercial ice machine, we'll figure out what it is. Our technicians know exactly what to look for and will quickly determine what the problem is, so they can fix it.
Technicians You Can Trust in Kansas City

Easy Ice techs are fast, reliable, and responsive. You won't find better, more trustworthy ice machine service techs in the area. If your ice machine breaks down, we'll get to you as soon as possible. If your ice machine is long overdue for a professional cleaning, we'll make sure we leave it spotless.
We Proudly Offer the Best Ice Machine Care in Kansas City
We've been in the commercial ice industry for decades and strive to be the best service provider in the field. If you own a commercial ice maker and you're looking for service worth your money, you've found it. Easy Ice will take care of your ice machine like it's our own.
Get the Best Ice Machine Service in Kansas City
We're available 7 days a week. Whether you need us to clean your ice machine or fix it, we're ready to help you out.
Regional Office: 9800 Britton St, Lenexa, KS 66219