Branch Manager in Sedalia, MO
Ice-Masters, an Easy Ice company, continues to grow and seeks a bright, highly motivated Branch Manager to join their team in Sedalia, MO. The Branch Manager's primary responsibility is to provide direction and leadership over the operational success of the branch, ensuring the Team represents the best options for our service offering. It is a Branch Manager's responsibility to establish a positive foundation with the management team to promote lasting business partnerships with our customers.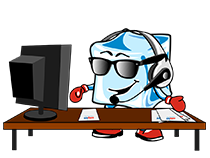 Essential Duties and Responsibilities:
Review metrics and identify any trends and/or potential anomalies that could affect the branch and overall company success.
Develop solutions to head off any potential problems.
Drive market and customer growth through proactive and innovative solutions or ideas gains through team interaction.
Create Branch goals that align with the overall company-goals and communicate to team members.
Maintain and track proper Inventory levels with the use of an efficient tracking system.
Maintain safe work practices and ensure branch staff is aware of and follows safety protocols.
Oversee branch processes and make improvements to ensure most efficient standards are maintained; keep abreast of most current and up and coming practices in the industry.
Identify and resolve customer escalations/concerns for the branch.
Manage employee performance, mentor and develop talent, and continually work with employees to grow skills that align with the industry needs.
Budgetary/Financial responsibilities include staying on top of the branch monthly Profit/Loss status, monitoring branch collection volumes, and ensuring annual sales/billable service goals are established and met.
Ensure branch readiness by providing employees with the tools to do their job, i.e. training, vehicles, equipment including a clean and healthy work environment
Identify employee concerns and work with Human Resources on solutions.
Conduct employee performance reviews, manage merit review process and maintain relevant employee documentation.
Position Qualifications:
Education: High school diploma or equivalent, required; bachelor's degree, preferred
Experience:
Six plus years of industry experience, preferred
Experience managing, mentoring, and developing direct reports in a team environment.
Experience building relationship with vendors and others (Ie. Trade schools, etc.)
Experience with Salesforce, preferred
Skills:
Working knowledge of computer programs (Microsoft Word, Excel, Outlook, PowerPoint) and multi-line phone systems
Strong command of company's policies and procedures
The ability to continuously evaluate and identify opportunities to drive process improvements that positively impact the customer's experience.
Clear and professional communication skills, both verbally and in writing, as well as excellent interpersonal skills
Accurate data entry
Licenses/Certifications:
Forklift License, preferred
Job Type: Full-time
Pay: $60,000.00 – $75,000.00 per year
Benefits:
401(k)
401(k) matching
Dental insurance
Disability insurance
Flexible spending account
Health insurance
Life insurance
Paid time off
Vision insurance
Schedule:
Education:
Experience:
Management: 6 years (Preferred)
Work Location:
Pay frequency:
Company's website:
https://www.ice-masters.com
Company's Facebook page:
https://www.facebook.com/EasyIceCompany/
Work Remotely: