Buy a High-Quality Hoshizaki or Manitowoc Ice Machine for Your Business
If you're looking to purchase an ice machine in Denver, we have the lowest prices on the top ice machines for sale. Easy Ice partners with Manitowoc and Hoshizaki because they make the best ice machines, dispensers, and ice storage bins on the market. No matter the size of your business, we have an ice machine for you. Our commercial ice makers produce anywhere from 250-3,000 pounds of ice a day.
Our team is available to help you get started today.
You can give us a call or request a quote online.
The Most Energy Efficient Ice Machines Available in Denver
Both Manitowoc and Hoshizaki manufacture the most energy efficient ice machines on the market. Not only do these machines produce a low carbon footprint, but also save you considerable money on your business's energy and water bills.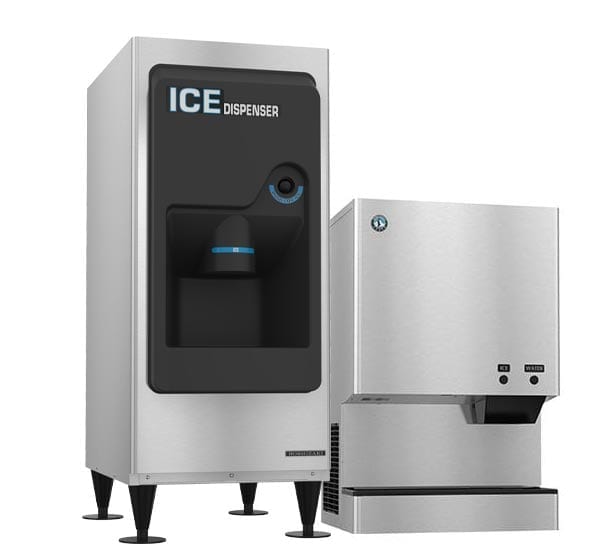 Ice Machines
for Sale in Denver
Manitowoc and Hoshizaki ice machines that produce between 250-3000 lbs of ice a day.
Our Ice Machines
Commercial Ice and Water Dispensers in Denver
Whether you need a countertop ice and water dispenser or a hotel dispenser, we have what you need.
Dispenser Models
Ice Storage Bins in Denver
No matter how much ice your business needs a day, we have a wide range of ice storage options at any size.
Our Storage Bins
The Perfect Ice Machines for Sale
Ice-type, size, bin capacity—a lot goes into choosing the perfect ice machine in Denver for your business. Our team of experts has years of experience in the ice machine industry. They can help you find the right machine for you and your customers.
Our inventory offers plenty of options to choose from:
Top-quality ice equipment

Hoshizaki and Manitowoc ice machines, dispensers, and bins

Wide range of ice production rates

Between 250-3,000 lbs a day

Large selection of ice types

Choose between crescent ice, square ice, dice ice, cubelet ice and more.

High-Efficiency options

Energy Star units use 15% less energy and 10% less water than standard units
The Largest Selection of Ice Machines for Sale
---
We have a huge selection of commercial ice equipment on-hand in Denver and its suburbs. Whatever size ice machine you choose, we have a large inventory of ice storage bins to accommodate your business's daily ice needs.
Regional Office: 5001 E 38th Ave Denver, CO 80207