Choosing the winners for Easy Ice's Experts Express! contest wasn't easy.  So many of your submissions have advice that is spot-on for hospitality leaders.
Entrants touched on topics that I hammer home every week on Restaurant: Impossible: updating menus, knowing your customers, hiring the right people, budgeting, decor and food safety.  It was a difficult task to choose the top 3. In fact, it was so hard that instead of 3 winners, we have 4 winners!
After careful deliberation, I'm pleased to announce the Experts Express! winners:
Grand Prize: Scott Boles, Yabos Tacos
2nd Place: Nicole Bowers, Texas Health Inspector
3rd Place (tie): The Landing Restaurant and Chef Keith Esbin, Bar Harbor Seafood Corp
Scott (Owner of Yabos Tacos) offers several great pieces of advice.  His tips focus on one theme:  hire and do business with people that share your passion and that you can trust.  From your employees to the vendors you partner with, you need to be able to trust that they will always have your back.  Whether it's an employee coming in on a day off and delivers a great customer experience or a vendor that reliability delivers on time or can help you out in pinch; the people you partner with are critical to running a successful business.
Operating a clean restaurant is a must.  There are no excuses for not keeping your restaurant clean.  By not maintaining a clean restaurant put your guest's health and your business at risk.  That said, Nicole offer's a great tip that is very relevant for any business owner.  It doesn't matter how much you know, or think you know, there is always room to learn and, those learning can come from any member of your staff.  Whether I'm on set of Restaurant: Impossible or, in managing my own business, I talk to every member of the team and listen to what ideas or insight they have to share.
What happens inside the restaurant (cooking, guest experience, décor, etc) is only one part of owning a successful restaurant.  To be successful, you need to market your restaurant.  You do not need to go as far as adding a pub and food truck to your business, like The Landing Restaurant has done, but you do need to be adaptive to the changing marketplace.  Know who your customer is, understand what they want and then tell them—through marketing—how you can deliver what they want.  Find unique ways to reach your customer to either deliver what they want or, tell them where to get what they want.
Keith's tip is very practical.  It requires additional effort on your behalf but, if you are struggling with managing your costs, this is a great way to get organized.
Thanks to all who participated — you're all winners in my book! It's great to know there are so many thoughtful foodservice leaders out there. Take time to read the winners' complete entries below.  I guarantee you'll learn something that'll help you run your business!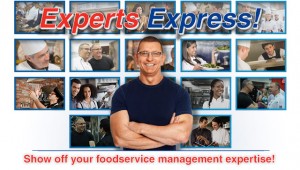 Scott Boles: First and foremost who you hire is one of the most important factors unless you plan on doing it on your own. In hiring look for passion, because you can teach good folks anything if they care and share your passion for your food. Don't give up on a person that needs a little coaching. Everyone learns at their own rate and they may be bringing some baggage that you as a good leader may need to console them on to help make them a better person or good co-worker. Ordering and prepping is easy if you create accurate pars for the amount of business you do daily, weekly, and monthly.
In the front of the house the most important thing is the customers experience. You don't have to be a five star restaurant to give the best service possible.  Those service factors are to be attentive and acknowledge the customer immediately and be sure if you can't wait on them right away that they know you will be with them shortly.
When taking and order be opinionated as in be sure to share your favorite things on the menu.  When a customer asks "how's the fish?"(or whatever else they may be curious about) they are not asking "do you like fish?" they are asking how is it and would you stand behind it.  If you do like that dish then it's your opportunity to rave over the dish, and if you don't care for the dish you can always speak on behalf of many other customers that you have been served it and loved it.  When the food you have suggested is a hit with your guest you have just made a connection and a connection with your restaurant and that is what the customer and the restaurant is trying to achieve.
As for why to source as in using Easy Ice, refrigeration will be where you can save a lot of money by outsourcing a purchase of an ice maker to folks that will keep you machines clean for your health inspectors and guests, and when it malfunctions or breaks down and it will, you have a partner that will help you on that Saturday night when you are getting crushed and any refrigerator repairman will cost you an arm an a leg if they even answer the phone.  Your refrigeration equipment will malfunction more than any other piece of equipment in your establishment and without the right partners you will regret any other choice.
As food suppliers, you are in the food and beverage business and so are your suppliers.  Your customers expect good service and so should you.  Don't always go with the lowest cost because many times there is a reason that it's cheaper.  Deal with folks you trust and for produce and other locally produced ingredients and items try to deal with local vendors.  As for the big boys, we are a rapidly expanding company ourselves and Sysco has been a great partner for us in finding the right ingredients that will be easily distributed in other locations not in your town.
When you are planning décor have an idea of what you want then hire somebody with that background to do it. Don't try it yourself or use a family member because they have a flair, and that usually doesn't turn out well. Lastly, don't get into this business unless you are ready to work harder than you ever have, with longer hours than you can imagine, have incredible patience with people, and have more passion than everyone else in your establishment.  Cheers!!!
Nicole Bowers:  For more than 18 years now, I have been a Registered Sanitarian for the State of Texas or as I am commonly referred to a "Health Inspector" and honestly, my advice for an aspiring Chef comes from a Food Safety perspective.
My 1st piece of advice is to EDUCATE YOURSELF!  Review the Food Safety codes and policies for the local health department, in the city where you are going to be working.  After reviewing the policies/requirements, be "brave" and feel free to visit the local health department, ask for an inspector, and ask any questions or voice any concerns that you might have BEFORE beginning to work in your kitchen.  You might even ask to be introduced to the inspector who will be working in your area.  Get a blank copy of the inspection form that the inspector will use when onsite in your facility and familiarize yourself with it.  In the beginning, if you know what is minimally required with regards to general sanitation and food safety, you are already a step ahead of many a seasoned chef you will be working with (from my experience) and will therefore NOT be surprised by any findings.
Secondly, ALWAYS enter the kitchen or restaurant in "LEARNING" mode, be open to new ideas and suggestions from those around you.  Know that no matter how "expert" you believe yourself to be, there is ALWAYS room for improvements and CHANGE.  Know that a person's role in the kitchen (i.e. dishwasher) does NOT negate the WISDOM that they may have to share with you (if you allow). Initially, YOU will have some minor mistakes, allow yourself to learn from them, receive constructive criticism, and become better NOT bitter.  Yes, you are the Chef but as often as you can (at least in the beginning), stand back quietly and watch your staff in action.. take mental notes, you will often be astounded by what you see (both good and bad) -then, act accordingly.
Now, dependent on circumstances, I believe in giving everyone initially ONE chance to fail or falter; but, then improve (especially in regards to public health and safety) -it is imperative to hire a staff that you can COMMUNICATE with, depend on, and TRUST!  This means ensuring that everyone has basic food service manager training and I recommend offering slight monetary incentives (i.e. free meal, discounted family meal) as a bonus to those staff members who keep you abreast of relevant new policies/safety techniques.  You may even want to pay a little more than minimum wage to facilitate this increased loyalty; but, you will have PEACE OF MIND in return (which for me is Priceless).  I could go on and on.. lol.. but there's a little Leadership advice to begin with… Good Luck, Everyone!
The Landing Restaurant:  Adapt to the every changing marketplace and use every opportunity to market your businesses.  With the economic challenges we faced it forced us to transition from just doing fine dining.  We added a GastroPub and a Gourmet Food Truck where the quality of food is still there but at a price all can enjoy. Cross marketing has brought new customers to our restaurant, and having multiple income streams has helped our business grow.
Chef Keith R. Esbin:  My best piece of advice for any new individual in management; especially the back of the house, is to not limit yourself to one vendor in any area.  Make an EXCEL spreadsheet of your food order guide and then e-mail it to 2 or 3 food distributor reps, have them fill in the prices and e-mail it back.  You can then cut and paste each into a side by side comparison and even highlight who has the best price.
You can also break out your produce, seafood, meats, and paper products to other vendors to see how they compare as well.  Some distributors will even do what is called a 10 for 1 to earn your business where they will take the total average of 10 weeks of purchases and put that total as a rebate on your 11th week.  Continue to have all the vendors submit monthly bids. It will keep them all honest!