Control Costs on Your Hospital Ice Machines
Our all-inclusive subscriptions help you manage your hospital ice machines, and
keep an eye on your bottom line.
The average hospital goes through ten pounds of hospital ice chips per patient per day, so you can't afford to have any of your hospital ice machines down for several days waiting for repairs. With our all-inclusive ice machine subscriptions, maintenance and repairs are included. What's more? We provide back-up ice if your machine is ever down for repairs.
Flake and nugget ice are very popular in hospital and healthcare settings because of their size and texture.  We carry a variety of machines that produce nugget ice and flaked ice, and we will help you determine which machine is best for you.  We also provide ice and water dispensers for employee break rooms and waiting rooms, and classic cube machines for cafeterias and on-site eateries.
Just a Few of the Benefits of an Ice Machine Subscription:
Affordable monthly payments
Top of the line hospital ice machines
Includes ice dispensers, bins, and storage
Nationwide delivery and installation
Regular sanitizing and preventative maintenance
All service, parts, and labor for covered repairs
24/7 customer support
Complimentary breakdown ice if your machine is down for repair
Discounts for multiple units
One point of contact for all your locations
Peace of mind for you and your patients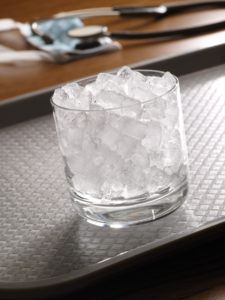 You can't afford to gamble with your patients' care, and notoriously unreliable ice machines and disreputable repair companies are a big risk. When you partner with Easy Ice, with just one phone call we'll triage the problem, dispatch a technician, and make sure you have a steady ice supply throughout the whole process.
Easy Ice is the number one provider of commercial ice maker subscriptions nationwide because we're reliable. Hospitals never stop running, so we don't either. Our 24/7 customer service support means you can reach us anywhere anytime.
With your hassle-free Easy Ice subscription, you'll never worry about your hospital ice supply again.
Ready for a Guaranteed Supply of Clean, Safe Ice?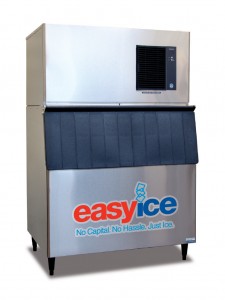 Save Money
Balancing the budget at hospitals is essential, and eliminating overspending on ice is one way to do it. On average, one Easy Ice subscription can save 25 cents per day. Think about how many hospital ice makers you have on each floor in every wing… when the machines add up, the savings add up to.
Our Tier 1 and Tier 2 pricing also means big discounts when you sign up for multiple unit subscriptions. More machines = more savings for your hospital.
Finally, Easy Ice subscriptions free up capital that would be spent on expensive hospital ice machines, so you can invest things that really matter, like the latest technology to improve care for your patients.
Save Time
Easy Ice also saves you money by saving you time. We'll take care of all your hospital ice machines – including service, sanitization, and repairs – so you don't have to waste time making calls, working with disreputable companies, and overpaying for subpar repairs. With Easy Ice, our goal is the same as yours—to have your ice machine up and running at peak performance at all times.
Save Energy
Finally, Easy Ice subscriptions save you money by saving on your cost of energy. Many of our machines are Energy Star rated, meaning you get the highest quality energy effcient ice machine models operating on the lowest possible amount of energy. Plus, properly maintained ice machines are up to 25% more efficient over their lifespans, so the preventive maintenance we perform twice each year keeps you in the green. Cut your hospital's energy bill with an Energy Star Rated hospital ice machine from Easy Ice today.
Save money, save time, save energy, and enjoy your peace of mind when you secure your hospital ice machines with Easy Ice.
Call us today