Hoshizaki and Manitowoc Ice Machines for Sale in Oklahoma City
Easy Ice is the most trusted commercial ice machine retailer in your area, thanks to our large inventory of the best brands. If you're looking for an ice maker than can handle customer demand at your business, you're in the right place. We offer ice machine models from Hoshizaki and Manitowoc that cover the full range of ice types and daily production capacities.
Our team is available to help you get started today.
You can give us a call or request a quote online.
Energy Efficient Ice Makers Available Here
Whether you want to reduce your environmental impact in Oklahoma City or save some money on your utility bills, Easy Ice can help you do it with our stock of Energy Star-certified ice machines. Hoshizaki and Manitowoc have made the EPA's Energy Star list every year for over a decade, with their energy efficient ice maker models. These models use less electricity and water than standard ice machines when properly cleaned and maintained.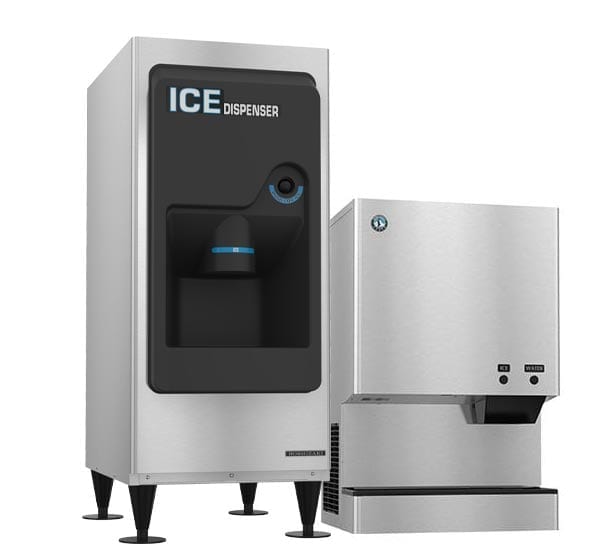 Ice Machines
for Sale in Oklahoma City
Manitowoc and Hoshizaki ice machines that produce between 250-3000 lbs of ice a day.
Our Ice Machines
Commercial Ice and Water Dispensers in Oklahoma City
Whether you need a countertop ice and water dispenser or a hotel dispenser, we have what you need.
Dispenser Models
Ice Storage Bins in Oklahoma City
No matter how much ice your business needs a day, we have a wide range of ice storage options at any size.
Our Storage Bins
The Right Ice Machine for Your Business is Here
It doesn't matter how much ice you need per day, which ice type you're looking for, or how many ice machines you want. Easy Ice has the ice-making equipment you're looking for in Oklahoma City.
Our inventory includes:
Top-quality ice equipment

Hoshizaki and Manitowoc ice machines, dispensers, and bins

Wide range of ice production rates

Between 250-3,000 lbs a day

Large selection of ice types

Choose between crescent ice, square ice, dice ice, cubelet ice and more.

High-Efficiency options

Energy Star units use 15% less energy and 10% less water than standard units
The Largest Selection of Ice Machines for Sale in Oklahoma City
---
We sell Hoshizaki and Manitowoc ice machines, bins, and dispensers, with ice production capacities ranging from 250-3000 lbs a day. Specialty ice, Energy Star models, touchless ice and water dispensers--we've got it all.
Regional Office: 1630 S. Baehr Street
Wichita, KS 67209