Salesforce Accounting Seed Administrator in Scottsdale, AZ
Easy Ice company, continues to grow and seeks a Salesforce Accounting Seed Administrator to join our team in Scottsdale, AZ. The Salesforce Accounting Seed Administrator is responsible for the execution of the day-to-day configuration, support, maintenance, and improvement of our Accounting Seed platform. This role is part technical project manager, part administrator and part Salesforce analyst. In this position, you will work closely with functional leaders, organizational units, and subject matter experts to identify, develop, and deploy new business processes. The successful candidate will have a record of success in improving processes and adoption using the Salesforce.com platform.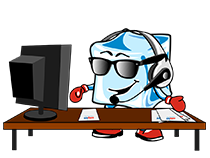 Essential Duties and Responsibilities:
Deliver exceptional customer service
Assist in development/implementation of reporting tools and metrics in Accounting Seed, Salesforce, and Excel
Serve as the primary system administrator for the Salesforce/Accounting Seed environment
Handle all basic administrative functions including user account maintenance, reports and dashboards, workflows, and other routine tasks
Complete regular internal system audits and prepare for upgrades
Manage Salesforce data feeds and other integrations as they relate to Accounting functionality
Assist in training of new and existing users, and grow the Accounting Seed skill set across the organization
Assist in Salesforce/Accounting Seed process documentation
Effectively act as the liaison between our users, vendors, and the application development team
Work closely with the Salesforce Administrator and IT organization to identify and implement solutions that expand system functionality, improve scalability, and manage cost
Position Qualifications:
Education: Bachelors Degree, preferred
Experience:
Two years of relevant customer service experience, required
Two years of working with multiple computer systems on a daily basis to deliver a business result while identifying opportunities to adapt and improve system performance and functionality
One year of Salesforce platform user experience
One Year experience working with Accounting Applications in the Salesforce environment as a user (i.e., Accounting Seed, Chargent, Salesforce Billing, Avalara, SendGrid, etc.).
Other Desired Skills:
Ability to communicate effectively in person, on the phone, and in writing with all levels of the organization
Excellent project management skills and a positive attitude
Demonstrated ability to meet deadlines, handle and prioritize simultaneous requests, and manage laterally and upwards
Creative and analytical thinker with strong problem-solving skills
Ability to critically evaluate information gathered from multiple sources, reconcile conflicts, decompose high-level information into details, abstract up from low-level information to a general understanding and distinguish user requests from the underlying true needs
Sales Cloud, Service Cloud, Accounting Seed and Developer certifications preferred
Saleforce.com Admin (ADM201 and ADM211) certification preferred
Job Type: Full-time
Pay: $45,000.00 – $60,000.00 per year
Benefits:
401(k)
401(k) matching
Dental insurance
Disability insurance
Flexible spending account
Health insurance
Health savings account
Life insurance
Paid time off
Vision insurance
Schedule:
8 hour shift
Monday to Friday
Experience:
Salesforce: 1 year (Preferred)
Accounting Applications within Salesforce: 1 year (Preferred)
Work Location:
Company's website:
Company's Facebook page:
https://www.facebook.com/EasyIceCompany
Work Remotely:
COVID-19 Precaution(s):
Personal protective equipment provided or required
Temperature screenings
Social distancing guidelines in place
Sanitizing, disinfecting, or cleaning procedures in place