One of our customer care representatives will get back to you shortly. Have a cool day!
---
Our goal at Easy Ice is to offer a commercial ice machine program that provides the best value to businesses that need ice.  The phrase "best value" can mean a lot of different things, so this page provides a lot of details about how we – and our customers – think about what "best value" means when dealing with commercial ice machines.

The three components of value we discuss are:
Economic/Financial
Time
Focus & Predictability
Economic/Financial
The economics of ice machines are interesting, because the purchase price is only 13% of the lifetime costs of ownership.  Since 87% of the costs are spread out over time, we calculated the impact of the following two factors:
Time value of money – the financial benefit of delaying payments
Inflation – the likelihood costs will increase over time.
There are a number of other assumptions we made, which are spelled out at the bottom of the analysis.
Time
When considering the best value in commercial ice machines, it is important to account for time spent selecting equipment, managing the scheduling of maintenance and filter replacement, along with the hassles of the unscheduled events that cause repairs, backup ice and general disruption.
We did not attempt to determine a value for you and your staff for this benefit, but estimates from our customers suggest we save them 5-10 hours per year.  At the low end, that is 50 hours saved over a 10-year period.  At $50/hour, that suggests an incremental benefit of $2,500.
Focus & Predictability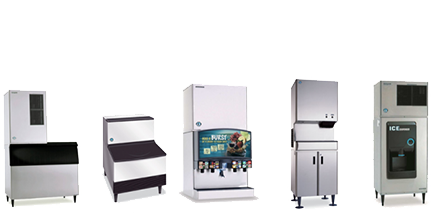 This final benefit is not as tangible as Time and Money, but our customers tell us that this might be the most important.  Easy Ice allows the ice machine to stay right where it belongs – in the background, doing it's job day in and day out.
All businesses are unpredictable, which is why the best value in a commercial ice machine to our customers is the peace of mind to count on the output of the machine and the fixed monthly payment.  Reliability and Predictability affords them the luxury of forgetting about the ice machine and paying attention to their customers.