The Highest-Quality Cleanings, Maintenance, and Repairs for Your Ice Maker in Topeka
Don't leave your commercial ice machine in the wrong hands. Buying it costs you thousands of dollars, and your business' success depends on a clean, consistent ice supply. You need a team of professionals in your corner who can deliver perfect ice machine maintenance and repairs every time. That's exactly what Easy Ice offers. We're the ice machine experts.
Our team is available to help you get started today.
You can give us a call or request a quote online.
Taking Care of Your Ice Machine Pays Off
Commercial ice makers have a reputation for getting dirty and breaking down. If you don't give your ice machine the maintenance it needs, you'll end up with an unsafe ice supply and hefty repair bills. Manufacturers like Hoshizaki and Manitowoc strongly recommend their ice makers be deep cleaned and inspected every six months at minimum, and that maintenance will go a long way toward the health and lifespan of your ice machine.
We understand how important proper ice maker maintenance is. We're here to deliver it to your ice machine in Topeka, so you can feel confident about your ice supply.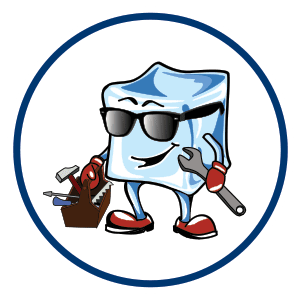 What We Offer to Commercial Ice Machine Owners in Topeka
We've provided five-star ice machine service to business owners for decades, often doubling the average lifespan for their equipment.
Here's how we do it:
Ice-Making Equipment Expertise

We're not just another HVAC or refrigeration company. We're a full-service ice machine company. Our technicians only work on commercial ice equipment. They're both highly trained and experienced in ice machine cleaning, maintenance, and repairs. When you hire us, you know you're getting the very best ice machine service in town.
Professional Cleaning, Disinfection, and Sanitization

Hoshizaki and Manitowoc recommend their ice makers get deep cleaned every six months to prevent scale, mold, and bacteria build-up. A proper deep clean is a multi-step process that needs to be done correctly for maximum effectiveness. Our technicians will clean and sanitize your ice maker the right way every single time, so you can always be confident you're serving safe ice.
Preventive Maintenance That Works

At every appointment, our technicians will check the control box, change the ice machine's water filter, look for leaks, inspect the evaporator plate, and more. If there are any warning signs of mechanical trouble, they'll notice, thanks to their experience with ice machines. Our preventive maintenance steps help you avoid unexpected ice maker breakdowns and ensures your always have the ice you need.
Diagnostic Testing

If we can't figure out what's wrong with your ice machine after a visual inspection, we'll run a diagnostic test. You can't assume HVAC and refrigeration contractors would know how to do that, but you can always expect an Easy Ice technician will.
Customer Service 7 Days a Week

We know how important your ice supply is to your business. That's why we're always available to take your calls. Whenever you have a problem with your ice maker, let us know, and we'll send a technician out to your site ASAP. Even if all you need is a routine maintenance visit or a cleaning appointment, we'll respond quickly and get you scheduled for our next available appointment.
We'll Treat Your Ice Machine Like It's Our Own
It doesn't matter where you purchased your commercial ice maker. If you hire us to service it, we'll take care of it to the same standard we meet on our own ice machines. Our subscription customers get the best ice machine maintenance and repairs in Topeka and so will you.
Schedule Your Ice Machine Service Appointment in Topeka Today
If your commercial ice maker is due for a deep clean or has stopped working properly, let us know. We'll take care of it.
Regional Office: 3101 SW. Van Buren St. Topeka, KS 66611