Get the Highest Quality Maintenance, Cleanings, and Repairs for Your Ice Maker in Tulsa
If you've purchased an expensive commercial ice machine, you don't want to leave its upkeep to the wrong people. Your ice maker needs professional care if it's going to stay at peak performance year after year. Make Easy Ice your ice machine service provider and you'll never have to worry about dirty ice, an empty bin, or unexpected breakdowns.
Our team is available to help you get started today.
You can give us a call or request a quote online.
The Best Value for Your Money
Guaranteeing a consumer-safe ice supply to your business is our top priority, and we know what it takes. We've been selling, renting out, and servicing commercial ice makers in Tulsa for decades. We take pride in delivering the best ice machine cleanings, maintenance, and repairs in town.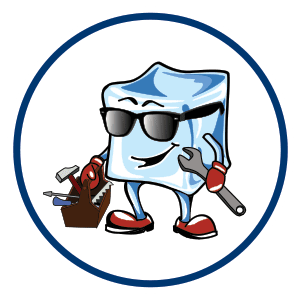 How We Keep Your Ice Maker in Tulsa Performing
We've built a reputation for doubling the average lifespan of our customers' ice machines. How do we do it? By holding our highly trained technicians to the industry gold standard of ice machine service.
Here's what you can expect when you hire us:
Ice Machine Expertise

Easy Ice isn't an HVAC or refrigeration company. We're an ice machine company. Our technicians are professionally trained ice machine experts, specializing in Hoshizaki and Manitowoc equipment. Because of their extensive experience and training with commercial ice makers, they know how to optimize your ice machine's performance, how to recognize subtle warning signs, and how to repair even the most challenging mechanical issues.
Deep Cleaning, Disinfection, and Sanitization

Commercial ice makers will develop scale, mold, and bacteria build-up if not cleaned properly and often enough. That's why we clean the ice makers in our subscription program every six months. We'll deliver the same kind of deep cleaning and sanitization to your ice machine, as often as you like. Our technicians know how to take a dirty ice machine and get it squeaky clean inside and out.
Preventive Maintenance

At every appointment, our technicians will change your ice machine's water filter, check the control box, inspect the evaporator plate, look for leaks, and more. They'll be able to recognize early indicators of mechanical trouble that non-experts would miss and stop breakdowns before they start.
Diagnostic Testing

If a visual inspection doesn't tell us why your ice maker is malfunctioning, we'll run a diagnostic test. There is no problem too complicated for our technicians. If your ice machine isn't working the way it should, we'll find out why.
Support You Can Count On

We know your business in Tulsa depends on ice. That's why we're available 7 days a week, 365 days a year to take your ice machine service requests. We'll respond quickly, and if we can't solve your issue over the phone, we'll send a technician out to your ice maker ASAP.
We Give You Peace of Mind
When you hire us to take care of your ice machine in Tulsa, you'll know it's in good hands. You won't have to worry about the safety and cleanliness of your ice supply or about unexpected ice maker breakdowns. We'll handle your ice machine the right way, so you can focus on your business.
Schedule Your Ice Machine Maintenance or Repair Appointment Today
Don't pay for mediocre ice machine care ever again. Count on our expert technicians in Tulsa for all of your ice maker maintenance and repair needs.