The Best Commercial Ice Machine Service in Wichita
You spent a lot of money on your ice maker. Don't leave it in the wrong hands when it comes to maintenance and repairs. Easy Ice is a commercial ice equipment company offering paid preventive maintenance, cleanings, and repairs. Our technicians are ice equipment experts who specialize in Hoshizaki and Manitowoc ice makers and can also handle other major brands.
Our team is available to help you get started today.
You can give us a call or request a quote online.
We Treat Your Ice Machine Like One of Our Own
Our technicians deliver preventive maintenance, cleanings, and repairs to ice machines in Wichita every day. Many of these ice machines are the ones we've provided to our subscription customers. If you purchased your commercial ice maker and call on us to service it, you can expect the same level of care that our subscription customers receive. It doesn't matter where you bought your equipment. We'll give you our best work, every time.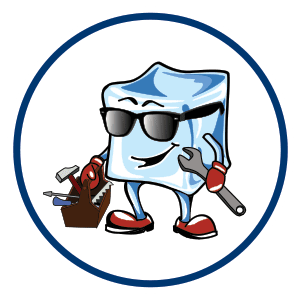 Everything Your Ice Machine Needs to Perform Perfectly
Consistent preventive maintenance and deep cleans are key to your ice machine's health and longevity. You need a trustworthy service provider in Wichita who knows how to properly handle commercial ice equipment and will deliver maintenance, cleaning, and repairs correctly every time.
That's where we come in. We offer service that can double the average life span of commercial ice makers like yours. Here's what our service includes:
Ice Machine Service Performed by Experts

Easy Ice isn't an HVAC or refrigeration company. We're a commercial ice machine company. Our technicians only work on ice makers like yours, and they've received extensive training. They know how to spot mechanical warning signs that other contractors would miss. They'll clean your ice machine the right way every time and restore a broken ice maker to perfect working condition.
Professional Deep Cleans, Disinfection, and Sanitization

Commercial ice machines are highly prone to harboring slime, mold, and bacteria--but with proper deep cleaning every six months, you won't have to worry about a dirty ice supply. We'll leave your ice maker squeaky clean inside and out, so you can serve your customers ice with confidence.
Smart Preventive Maintenance

At every service appointment, our technicians will change your ice machine's water filter, check the control box, look for leaks, inspect the evaporator plate, and more. They catch potential problems early, help prevent major breakdowns, optimize your ice maker's performance, and lengthen the unit's life.
Diagnostic Testing that Works

If our technicians can't figure out why your ice machine is acting up with a visual inspection, they'll run a diagnostic test to identify the problem. They won't leave you with an under-performing ice maker. They'll do whatever they can to get it running properly again.
A Team in Wichita You Can Count On

We're available 7 days a week to take your calls. If you realize your ice maker is overdue for a cleaning or if it starts giving you trouble, let us know and we'll respond quickly. We know how important your ice supply is to your business, so we'll send one of our highly trained technicians out to your site ASAP.
Leave Your Ice Machine's Upkeep to Us
Don't worry about your ice supply ever again. We'll make sure you always have the clean, safe ice your customers want by keeping your ice machine in excellent shape. We're proud to provide the highest quality commercial ice maker care in Wichita.
Schedule Your Ice Machine Maintenance or Repair Today
If your commercial ice maker is due for a deep clean and inspection or needs to be fixed, make an appointment today.
Regional Office: 1630 S. Baehr Street
Wichita, KS 67209