Last updated on October 26th, 2022 at 06:18 pm
Plenty of Fruit in Season Means Great Spring Cocktails
Spring is in bloom and one of the best ways to celebrate is by taking advantage of all the fresh fruit in season with spring alcoholic drinks! Here are five of the most vibrant spring cocktails that make use of seasonal fruit. 
Paloma
Citrus like lemons, limes, and oranges begin to grow in the winter and stay until the end of spring. Grapefruit is no exception! This bittersweet fruit might have a reputation for being an 80s diet fad, but it also makes for a crisp and refreshing spring alcoholic drink.  
Although the Margarita may reign supreme as the most recognizable Mexican cocktail to Americans, a Paloma (pictured above) is equally as popular in Mexico and just about any cantina worth their salt has it on the menu. Meaning "dove" in Spanish, a Paloma has fresh grapefruit juice, salt, and good quality mezcal or tequila. Out of grapefruit? No problem! You can also use a grapefruit soda like Squirt or Fresca in place of grapefruit juice and sugar, but if you're really looking to celebrate the fresh bounty of spring, we prefer this recipe using the juice of a fruit.
This drink is best served on the rocks using slow-melting Square Ice. 
Yield: 1 serving 
Ingredients:

 

2 oz of tequila or mezcal

 

½ oz of lime juice

 

2 oz of Grapefruit juice

 
2 oz of club soda

 

1 tsp of sugar

 

Pinc

h of salt 

 
Directions: 
Salt the rim of a highball glass with salt and grapefruit juice. Add 3 oz of grapefruit juice, ½ oz of lime juice, and 1 tsp of sugar in the gals and stir until the sugar dissolves. Next, add 2 oz of tequila or mezcal with ice. Top it off with 2 oz of club soda and garnish with a lime wedge.    
Apricot Bellini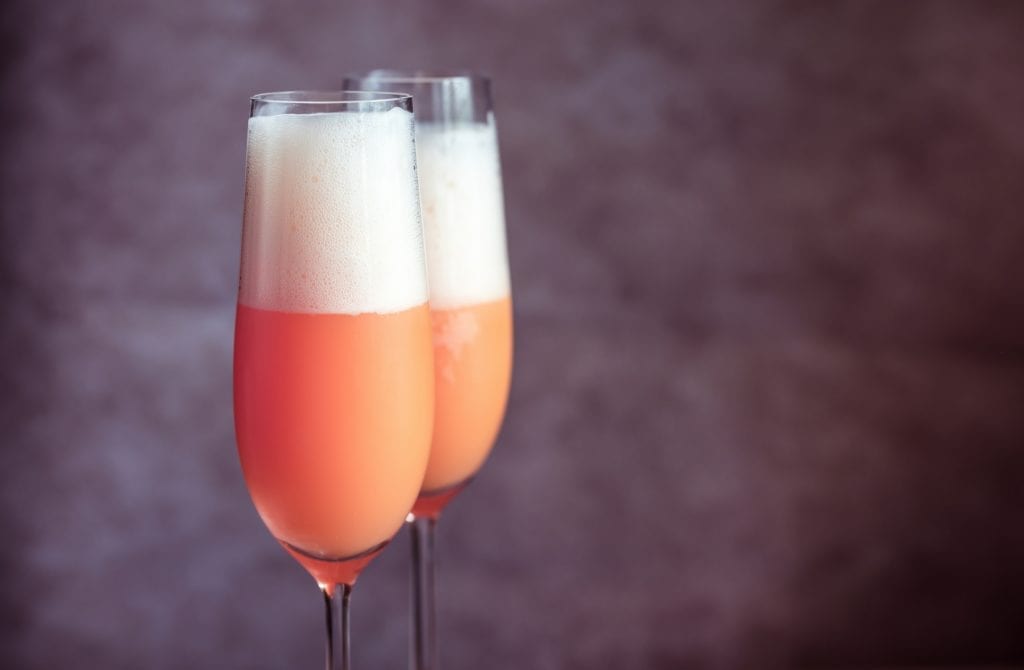 A Bellini is traditionally made using white peaches, but spring is apricot's time to shine! The Bellini was invented in the 1930s at Harry's Bar in Venice, Italy, a favorite spot of Ernest Hemingway and Orson Welles. This Bellini is a simple cocktail that only uses three ingredients and is one of many perfect spring drinks to serve at an outdoor brunch with friends. 
Don't forget to chill that Prosecco! Crescent ice in a bucket can chill a bottle of Prosecco in 20-30 minutes – and makes for a fancy centerpiece!
Yield: 1 serving 
Ingredients: 
4oz of 

chilled 

prosecco

 

Cherry juice

 

(optional) Sugar to taste

 
Directions: 
Pour 1 oz of nectar into a champagne flute and top with 4 oz of Prosecco. Add a dash of cherry juice for color.    
French 75
The second of our spring cocktails that uses sparkling wine – or a bottle of champagne on ice if you want to stay true to its French roots. The French 75 may sound like something created for a fancy dinner party, but it actually gets its name from the Howitzer 75mm field gun used by soldiers during World War I. Rumor has it, the French 75 was so strong it packed the same punch as popular wartime weapon.    
Don't let its history fool you, though. The French 75 is an elegant drink that should appeal to gin lovers and really shines when mixed with fresh springtime lemons and a nice bottle of champagne. Although commonly served in a champagne flute or coupe glass, this drink was originally served in a highball.    
This drink requires a shaker, so you want a good, solid ice cube that melts slowly to chill that gin! Dice Ice will get that drink to a perfect temperature.
Yield: 1 serving 
Ingredients:  
1 ½ oz of gin

 

½ oz of lemon juice

 

¼ oz of simple syrup

 

Top off with chilled Champagne

 
Directions: 
Combine gin, lemon juice, and simple syrup in a shaker with ice. Shake until thoroughly mixed and strain into a glass. Top with chilled champagne and garnish with a lemon peel.    
Cherry Bounce
The Cherry Bounce is rumored to have originated in Frithsden, England, but had a very popular run in colonial America and was a favorite of George Washington. Its long history has made it the official cocktail of Raleigh, NC. It's an excellent drink to make during spring when cherries are in season.    
Since you need to infuse cherries with brandy, this drink takes a few days to make, but it's certainly worth it. You can also try out different cherry varieties to fit your taste (Bing cherries make for a sweet drink, while sour cherries are tarter).    
You want a slow-melting cube to hold the flavor of this drink. Either Crescent or Square ice will make the perfect companions.
Yield: About 1 ½ quarts 
Ingredients: 
2 cups of pitted cherries

 

1 ½ cups of sugar

 

4 cups of rum, brandy, vodka, or bourbon (Martha Washington famously used brandy) 

 
Directions: 
Add the cherries, sugar and 1 cup of alcohol to a large mason jar and shake to dissolve the sugar. Add the remaining 3 cups of alcohol and gives it one more good shake. Set the jar on a windowsill for one week, then move it to a dark spot. Let the mixture sit for 40 days until the drink turns a dark red.    
After 40 days, strain the mixture into a clean container and let sit for 2 hours before enjoying over ice. Note: hold on to the cherries! They make for an excellent topping for desserts.    
Frozen Strawberry Daiquiri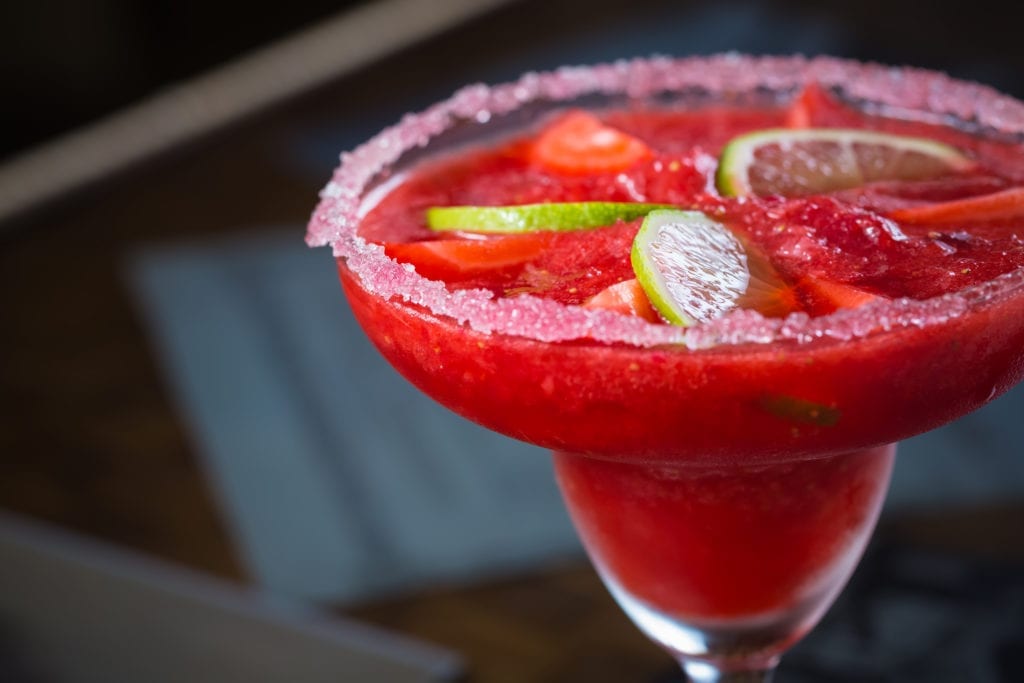 Most people are familiar with a strawberry daiquiri, but since strawberries are in season there is no better time to enjoy one or two of these favorite spring drinks!    
Daiquiris originated from Cuban iron mines before Americans brought the recipe to the US. The drink was originally composed of lime juice, rum, and a ton of cracked ice. As it made its way into the bar scene, bartenders began crushing the ice finer and finer until the frozen daiquiri was born. Daiquiri's come in a range of styles from the boozy Hemingway Daiquiri to banana and even avocado!    
Hard, solid cubes can really damage blenders, so try a softer cube, like Cubelet ice, to get that smooth, frozen consistency!
Yield: 1-2 servings 
Ingredients: 
1 cup of strawberries

 

3 oz of light rum

 

2 oz of lime juice

 
2 tbsp of simple syrup

 

Ice

 
Directions: 
Add all the ingredients to a high-powered blender and blend until smooth. Pour into a large margarita glass and garnish with a slice of lime.