All-Inclusive Ice Machine Subscriptions
Just Like an Ice Machine Rental, Only Better!
Are you looking for an ice machine rental for your business? An ice machine rental is often a more cost-effective solution over choosing to buy an ice machine, but here at Easy Ice, we want to offer our customers more.
With our all-inclusive commercial ice machine lease program, you get the low, upfront cost-benefit of a standard ice maker rental—and so much more!
With your monthly subscription we include:
The leading commercial ice machines, bins, and dispensers
Delivery and installation
Professional-grade ice machine water filter
Preventive maintenance & cleaning visits two times a year
Water filter replacement at each cleaning
All repairs, including parts, and labor are covered
Complimentary breakdown ice while the machine is down for repairs
Customer phone support available 24 hours a day, 7 days a week
Simple ice machine upgrade program for expanding businesses
30-day cancellation policy for qualified customers
An Ice Machine Rental Made Easy!
Flexibility
Your business or facility needs often change as you expand, downsize, or change your location. Unlike a standard ice machine rental, Easy Ice believes your ice supply should be able to move with your business. That's why our subscriptions offer the ultimate in flexibility.
While buying an ice maker offers no room for growth, and an ice machine lease may make it difficult to switch out equipment, an Easy Ice subscription makes it easy to modify your ice supply. Also, when you add machines later, you may be eligible for our bulk discount and equipment upsizing!
Upfront Costs
Your initial setup fee (often around the cost of two months of a subscription) is a fraction of the cost of purchasing an ice machine which can run several thousand dollars. This is a significant saving for any business and can be especially beneficial for a new business that's short on capital.
Ice Machine Cleaning and Maintenance
Most ice machine rental programs typically leave you responsible for internal cleaning. If you or an employee does the job, this means having to deal with dangerous chemicals and a lot of time and effort! You could be doing more productive tasks for your business.
Hiring a professional is an additional cost, not counting the time it takes to find and schedule an appointment. With Easy Ice, you not only get two thorough cleanings per year, but we keep on top of scheduling for you, so you never have to worry about getting caught with a dirty ice machine when a health inspector comes!
Hassle-Free Ice Machine Repairs
Because we offer regular ice machine maintenance as part of your subscription, we're often able to find, fix, and prevent problems before you need an ice machine repair. More to the point, if we can't avoid the ice maker repair, then there's no cost to you!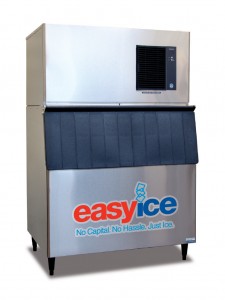 Breakdown Ice
Perhaps one of the greatest features of an Easy Ice subscription that makes us different than most ice maker rental companies is our Breakdown Ice Guarantee. With this promise, we cover the cost of ice during any ice machine repair or maintenance we're unable to perform quickly. This is just one of the many ways we ensure your business always has ice.
Complimentary Water Filters
Never run out of clean, fresh water for your ice with our complimentary water filters! Providing these filters twice a year not only helps to make your water quality better but also aids in keeping your entire system clean. Our upgraded filters are even designed to combat mold and other issues in at-risk environments.
Ready to Simplify Your Ice Supply?
Give Us a Call Today or Request a Quote Online.
Choosing the Easy Ice Subscription for You
Find out why Easy Ice is the best choice over commercial ice machine rental. Visit our customer qualifications page to see if we're a good fit for your business or use our easy contact us page to speak with a knowledgeable Easy Ice representative.