Even the best commercial ice makers can break down from time to time. When you partner with Easy Ice, a broken ice maker doesn't have to be a big headache. With just one phone call, we'll troubleshoot the problem, schedule a technician if needed, and make sure you don't run out of ice in the process.
Our ice machines are the best in the business, but occasionally we see a broken ice maker due to normal operation and we're not able to repair it quickly, we'll deliver plenty of ice to keep your business running. It's included as part of your Easy Ice subscription, and we're the only national company that offers it. We won't let a broken ice maker leave you without ice. That's the Easy Ice promise.
Our breakdown ice guarantee tells you that Easy Ice will do everything possible to ensure the ice machine performs to the manufacturer's specifications.  If the ice maker is broken due to normal operation and we're not able to repair it quickly, the ice is on our dime.
We offer this guarantee because that is what our customers want – a reliable supply of ice without the maintenance hassles or the capital expenditure.
How it works and What's Not Included
The key to ice machine performance is proper installation, maintenance and operator care.  The Easy Ice program and our Breakdown Ice Guarantee cover everything but the operating environment.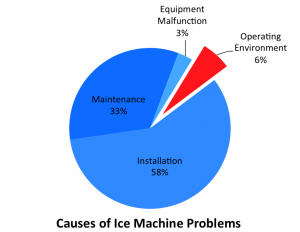 So while our program is hassle-free, it isn't responsibility-free.  Our customers are responsible for providing a suitable ice machine operating environment.  The basics are:
Filterable water with moderate hardness and satisfactory flow rates and pressure.
An electrical circuit that has enough capacity – often a dedicated circuit.
A drain that allows for the proper drainage slope.
Operating temperatures between 45 and 95 degrees Fahrenheit
Sufficient air flow and temperature to allow for heat dissipation.
Beyond these core requirements, our technicians will work with you to identify if your environment requires more frequent or additional maintenance services.  See the following sections to learn more:
Customer Care – Additional Maintenance Services
Program Description – What's Not Covered
Customer Care – Customer Responsibilities
Peak Ice
In addition to our Breakdown Ice guarantee, we also offer Peak Demand Ice in select markets.  Our customers use our Peak Demand Ice service when they have special events or unusually hot days when the ice machine is operating properly, but can't keep up with thirsty customers.
We are continuously expanding our Peak Ice capabilities so call us for availability and pricing.  Remember that Peak Ice isn't free, but it sure is convenient!
FDA Approved Ice
Ice is classified as food, therefore packaged ice companies are regulated by the FDA.  The Easy Ice Breakdown Ice Guarantee ensures you'll have FDA approved, food grade quality ice to serve your customers and employees if your machine ever breaks.  Don't settle for anything less.
866-easyice
(327-9423)