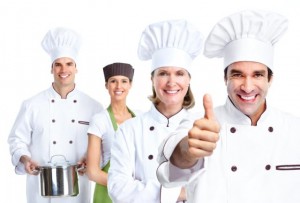 When it comes to customers dining out, it's never about the restaurant ice maker. Customers don't flock to restaurants for ice, but without a well-performing commercial ice machine, restaurants couldn't function. National food service chains, diners, fine dining & full-service restaurants and fast-food establishments depend on a reliable supply of clean, safe ice.
A restaurant ice maker is a necessary piece of restaurant equipment for any restaurant, but they are costly to own and maintain. Easy Ice has an all-inclusive commercial ice machine offering that we call a subscription. Easy Ice subscriptions provide restaurants with state of the art commercial ice machines, water filters, service, cleanings and maintenance.  On top of all that, Easy Ice guarantees the ice machine will perform to specifications or the Breakdown Ice is free!
"I have ice machines from Easy Ice in 3 of my Austin-area McDonald's locations.  I like the predictable monthly cost and fast service that Easy Ice provides.  I'm really happy with their Breakdown Ice program, too.  If one of their ice machine ever breaks, they deliver back-up ice to me at no cost until it's fixed.  Plus, their program allows me to upsize restaurant equipment if I need to do so.
 
I appreciate the predictability and dependability that Easy Ice's program provides."
Regardless of restaurant size, all eating establishments have need for a reliable source of ice. Which means they all need a high-functioning commercial ice maker.
Reasons restaurants depend on commercial ice makers to produce food-grade quality ice:
Food safety — Sauces, cooked pasta and salad dressings sit on the line and need to be in an ice tray.

Cooking preparation and safety — An ice bath shocks the food and prevents it from cooking further.

Cooking safety — Food should never be cooled at room temperature. This can lead to contamination and food-born illness. The surest way to cool food safely and evenly is in an ice bath.

Salad bars and displays — To ensure safety and freshness, ice trays must be used.

Cocktails and beverages — You can't make a margarita without ice! And most people wouldn't touch a soda without a helping of ice. Iced tea, anyone?
Our ice machine program is available nationally which makes our subscriptions the practical solution for restaurants with multiple locations. With local representatives and repair technicians in cities and towns across the country, we are able to give our customers the most efficient service.
Easy Ice has partnered exclusively with Hoshizaki (made in the U.S.A.) commercial ice machines for their high quality and energy efficient ice makers. Our full-service ice machine subscription plans offer a variety of models, bins and dispensers to fill any restaurant's need.
Restaurant owners and managers are looking for an alternative to owning or leasing commercial ice machines. Easy Ice commercial ice machine subscriptions are the affordable solution for guaranteeing your restaurant always has ice.
"We have franchisee locations across the country and keeping our ice level high has proven to be a nightmare! Our ice machine costs for cleanings, maintenance and filtration have been outrageous, so to find a nationwide supplier who could support us at a flat, predictable fee each month was truly a Godsend! Easy Ice has proven to be a very simple one stop, go-to source for all of our franchisees who need the safest and highest quality ice. And they really mean what they say about fixing any equipment problems fast and free of charge!"