Our team is available to help you get started today.
You can give us a call or request a quote online.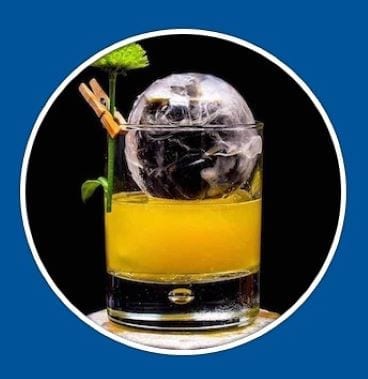 Give Your Cocktails and Spirits
a Twist with Sphere Ice
---
Looking to elevate the look your quality cocktails and top-shelf spirits while maintaining their flavor? Look no further than Hoshizaki's sphere ice! Sphere ice is large enough that it keeps the flavor of delicate spirits intact while chilling them fully. The ice also melts slowly, so customers can take the time to savor their favorite cocktails.
It's Hip to Be Sphere
---
Hoshizaki's sphere ice cube makers inject only the cleanest water into sphere-forming evaporator chambers. The water freezes into two half-dome shapes that come together to create a perfectly round ice cube that will dazzle drink-lovers. Hoshizaki ice makers purge high-mineral water out of the ice making process, so your customers are only left with the clearest ice cubes.
---
Perfect for Behind the Bar
---
Sphere ice makers like the Hoshizaki IM-50BAA-Q are small enough to fit underneath a bar, so they are the perfect companion for any bartender. This machine produces 50 lbs of ice over 24 hours - that's 500 crystal-clear spheres a day. Hoshizaki ice makers come with a durable, stainless-steel exterior that stands up to the bustle of even the busiest bar.
---
Innovative Design for a Dependable Ice Supply
---
Both Hoshizaki makers use only the cleanest water to produce crystal-clear sphere ice cubes. With an Easy Ice subscription, we include biannual preventive maintenance and professional cleaning to ensure your ice maker maintains peak performance and produces safe and sanitary ice for your customers.
Key Specifics:
---
| | |
| --- | --- |
| Ice Type | Sphere Ice |
| Brand | Hoshizaki |
| Shape | Sphere |
| Available Models | IM-50BAA-Q |
| Diameter | 1.8" |
---
Technical Documents
---
Hoshizaki Ice