Quality Restaurant Ice Makers for All Food Service Industries
Ice is Always on the Menu for Bars and Restaurants, So We're Here to Help.
Both large chains and neighborhood bars alike know our subscriptions are the easiest way to get a reliable ice supply while saving time and money. Starting at just $145, our all-inclusive program is the perfect solution for every business!
Our team is available to help you get started today.
You can give us a call or request a quote online.
Restaurant Ice Makers That Won't Let You Down
Having a restaurant ice maker that won't let you down in the food industry is crucial to your customers' experience. Instead of breaking the bank on a new ice machine, check out Easy Ice's commercial ice machine leases. For one low monthly payment, you'll have everything you need to keep your ice supply full year-round. Restaurants and bars have dozens of uses for ice including:
---
Food Safety – Ice trays ensure sauces, cooked pasta, and salad dressings stay safe.
Food Prep – Ice baths for shocking to make the perfect vegetables and poached eggs.
Cooking Safety – Ice rapidly cools soups and stocks safely without the risk of contamination.
Salad Bars and Displays – Whether its produce or seafood, ice trays are a must if you plan on displaying food.
Cocktails and Beverages – Customers love a cold drink. Also, ice is perfect for keeping bottles and cans cool.
---
We cover your equipment and service costs at Easy Ice, so you have less to stress about. Even during a lunch rush or a busy holiday, we make sure that your restaurant never runs out of ice. That's why we even include our Breakdown Ice program in your subscription at no extra cost. When your restaurant ice maker is down, we've still got you covered. You'll have peace of mind knowing the experts in the industry have your back.
We Handle the Ice So You Can Focus on Your Business
---
All-Inclusive Subscription Serves All Your Ice Needs
A restaurant ice maker is a necessity but it's costly to own. Things like maintenance and professional cleaning are all part of the total ice machine cost. Easy Ice's ice machine subscriptions offer the benefits of a top restaurant ice maker without the cost and hassle of owning. Each subscription comes with biannual preventive maintenance, service and cleaning which ensures your unit is always in top performance. We also include parts and repairs. Never worry about waiting for unreliable repair companies who leave your customers without ice.
The Right Restaurant Ice Maker for Your Needs
We're experts when it comes to restaurant ice makers. Just tell us how much ice you need, and we'll create a custom subscription to fit your restaurant's needs. Our subscriptions offer:
Focus on Customers, Not an Ice Machine
If you're going to spend valuable time and money, it should be on your customers – not your ice machine. Budget with confidence knowing that with Easy Ice there are no unexpected expenses. Our full-service subscriptions include preventive maintenance, cleaning, and water filter replacements. We also cover all repairs, labor, and parts for restaurant ice makers in our monthly price. Our Ice Machine Experts are happy to help you choose the right ice machine for your bar or restaurant. We've also put together this guide to restaurant and bar ice makers.
Energy Efficient and Reliable
Our selection of ENERGY STAR rated restaurant ice makers reduce energy usage for your business, saving you even more green. Properly maintained restaurant ice machines are up to 25% more efficient, last longer, and perform better. That's why we perform two preventive maintenance sessions a year. We also cover repairs, so if there's ever a problem, you can get back to serving your guests in no time!
Invest in What Matters
When you work with Easy Ice, you don't have to spend thousands of dollars on a potentially unreliable commercial ice machine. With subscriptions starting at only $145/month you can free up extra capital for marketing, staff, and other restaurant essentials. As your restaurant grows and expands, so can your ice machine! Give Easy Ice a call, and we'll deliver an upgraded restaurant ice machine straight to your door.
Support and Ice in Your Bin – Guaranteed
When restaurants run out of ice, business suffers. That's unacceptable as far as we're concerned. We make sure one of our helpful customer support specialists is ready to take your call 24 hours a day. If your restaurant ice maker is down for repairs, we'll supply you with Breakdown Ice, so you can continue to serve your customers.
Peace of Mind
Your restaurant is your livelihood. Have peace of mind knowing you will always have a clean, reliable, and high-quality ice supply. If the restaurant's ice machine ever breaks down, we'll provide Breakdown Ice free of cost. If we can't get out to you, we'll cover the cost of your replacement ice.
Customer Support Whenever You Need It
We care as much about your ice supply as you do, which is why our customer support team is available 24/7, 365 days a year. One of our expert technicians will be out to repair the machine ASAP.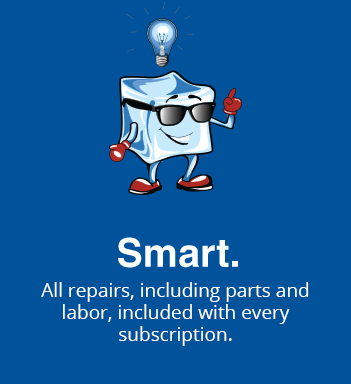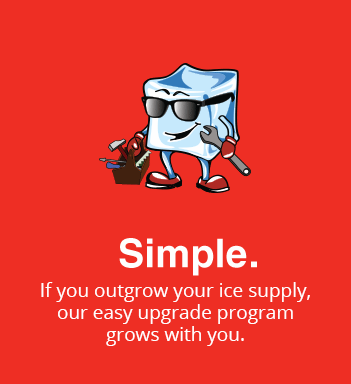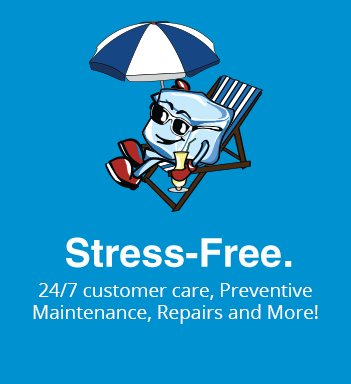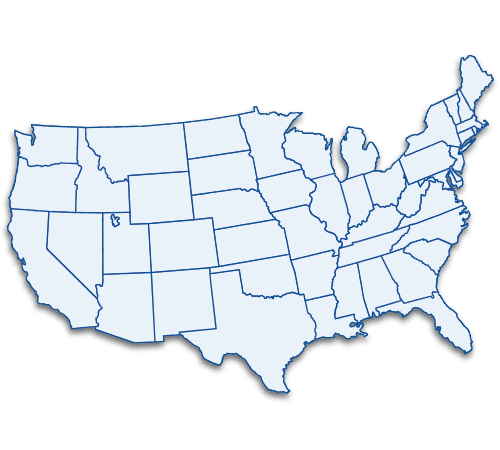 Nationwide Footprint
Multiple locations? No problem! Easy Ice the only national provider of bar or restaurant ice makers on a full-service monthly subscription. Partnering with us means we'll supply your locations around the country. That means you have one company, one bill, and one standard for clean and reliable ice. Plus, we offer discounts on plans with six machines or more! An Easy Ice subscription is a cost-effective, hassle-free solution for all your restaurant locations.
Restaurant Owners Love Easy Ice
"I have ice machines from Easy Ice in 3 of my Austin-area McDonald's locations. I like the predictable monthly cost and fast service that Easy Ice provides. I'm really happy with their Breakdown Ice program, too. If one of their ice machine ever breaks, they deliver back-up ice to me at no cost until it's fixed. Plus, their program allows me to upsize restaurant equipment if I need to do so. I appreciate the predictability and dependability that Easy Ice's program provides.""Marty", "Franchisee"
Mcdonalds
"We have franchisee locations across the country and keeping our ice level high has proven to be a nightmare! Our ice machine costs for cleanings, maintenance and filtration have been outrageous, so to find a nationwide supplier who could support us at a flat, predictable fee each month was truly a Godsend! Easy Ice has proven to be a very simple one stop, go-to source for all of our franchisees who need the safest and highest quality ice. And they really mean what they say about fixing any equipment problems fast and free of charge!"Joe Gallina, VP
Pizzaria Venti