Last updated on January 5th, 2023 at 04:57 pm
Elvis Bencomo, owner and chef of Pasion Latin Fusion in Albuquerque, is on a mission: to make Pasion Latin Fusion the most successful restaurant ever helped by Robert Irvine on Restaurant:Impossible.
I think Elvis and his wife (co-owner), Monica, will achieve their goal.  Restaurant sales are up 30% and they are launching a food truck this week.  I had a chance to speak with Elvis and his passion for Pasion Latin is explosive!  This culinary couple has what it takes to conquer any challenge and succeed.
Here's what Chef Robert Irvine has to say about Pasion Latin: "There's no doubt in my mind that Elvis and Monica have what it takes to make it in this Industry! Their turnaround from desperate, to profit, to expanding into mobile food sales, shows smarts and a serious "passion" to succeed. While I look forward to seeing the future of EVERY restaurant that I help on the show, I am sometimes concerned whether the owners really fully absorbed everything I was trying to teach them. It's nice that I don't have to worry about the future of Pasion Latin. They GET IT!!
The Iceologist:  Tell me about your Restaurant: Impossible appearance.  What did you learn from Chef Robert?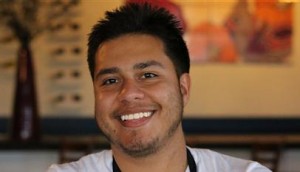 Elvis:  We're a lot more efficient since Robert was here.  The kitchen is running much smoother and we're busier than ever.  We've kept all the changes Chef recommended which is working really well for us.
There's a different vibe at Pasion Latin since Chef Robert was here.  He is so passionate — his attitude really helped re-spark my passion for Pasion!  I get up every morning and want to do the best job I can.  I look forward to coming to work and cooking awesome food for my customers.
Robert said I'm the "face of the restaurant" and I need to own that.  In the past, I was embarrassed to come out of the kitchen and talk to people.  But chefs are becoming rock stars and Robert told me to walk the floor and interact with customers.  Chef Robert genuinely wanted to help us, and he did!  I think we all want to do good things for other people — it's inside all of us! — and that's exactly what Robert does.
The Iceologist:  What was the biggest takeaway from Robert?
Elvis:  We adjusted a few recipes which have been a big hit.  More importantly, I'm working smarter and the restaurant is more efficient.  And Robert told me to get an ice machine from Easy Ice.  He explained he uses Easy Ice in his restaurant and if I wanted to be as successful as him, I needed to do this too. Your ice machine program is a no-brainer!
The Iceologist:  I love hearing that!  What were you doing for ice before?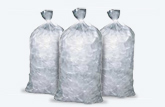 Elvis:  Can you believe we were buying bagged ice every day? (Laughing)  I was going to the store every day to shop, so I'd pick up bags of ice.  Commercial ice machines are expensive and I didn't want to spend the capital to buy one.  And I knew buying an ice machine wasn't a good investment. So, I just kept buying ice.
The Iceologist: And what was that costing you?
Elvis:  (Laughing) It didn't seem like much on a daily basis.  But when we looked at the numbers, we were spending around $500 a month on bagged ice!
The Easy Ice program is so convenient.  I don't have to worry about maintenance or anything and the ice machine is really efficient.  Getting Easy Ice into the restaurant is one of the best changes we've made here.  When I was buying bagged ice, we'd sometimes run low and customers were only getting a cube or two in their drinks.  Now I can be freer with the ice and we never run out.
The Iceologist:  I heard you're adding a food truck to your business.  Tell me about it.
Elvis: We're launching the Pasion Latin food truck this weekend (June 7, 2014).  We'll have it at the Digital Latin American Block Party in downtown Albuquerque — perfect timing!  The food truck is an extension of our brand, just more street-friendly, serving street foods of Latin America.  The event this weekend is perfect for the launch.  Streets are going to be closed off to traffic — it's going to be huge and we'll be there serving some awesome food!  We'll have our new and improved (thanks to Robert) Cubano sandwich on the menu and our popular banana-chip breaded fish tacos.
The Iceologist:  I'm so happy for you!  I want to hear about your menu. The dishes are so unique and enticing, with a number of vegetarian and gluten-free items on the menu.  Was it a conscious choice to have items for people with dietary concerns?
Elvis:  Our customers were asking for it.  They know what they want and if they find it they'll come back again and again.  We're now known as a gluten-free and vegetarian-friendly restaurant.  Our most popular gluten-free item is our empanada.  I make the dough using boiled plantains in place of flour.  No flour, no lard — our customers love them!  And no guilt after eating a few.
The Iceologist:  I have to ask about your Fire and Ice tostada — I love the name!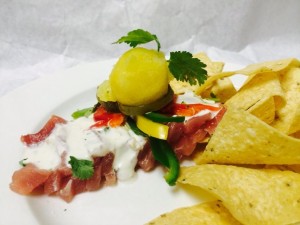 Elvis:  This is an awesome dish and customers love it.  I make a spicy ceviche and top it with homemade fruit sorbet (made with your ice).  The tostada is hot and cool at the same time.
The Iceologist:  That sounds delicious!  Any final thoughts?
Elvis:  I'm so grateful for the opportunity Robert gave us and feel more driven than ever.  The restaurant is doing great — sales are up over 30% — and I could just sit back and enjoy.  But I'm motivated to work even harder and always looking for the next challenge. As I said before, I'm determined to make Pasion Latin the most successful restaurant in Restaurant: Impossible history.
Iceologist note:  Monica Bencomo has written a book, 7 Habits of a Happy, Healthy Mom, available through Amazon.