Restaurant Ice Machines Without the Hassles of Ownership
Our all-inclusive subscription for restaurant ice machines mean you'll never be without ice.
We all know restaurant ice machines are a necessary evil. It was an expensive purchase, it's difficult to clean, expensive to repair, and to top it all off… it doesn't even pull a profit! Your customers won't pay extra for ice – they hardly even notice it. The trouble is, your business wouldn't last a day without it. Sure, your ice machine doesn't make you money, but if it goes down it will cost you a lot of business.
Easy Ice has the solution for all of your restaurant ice machine problems: An all-inclusive restaurant ice machine subscription.
Starting at only $155 a month, you can be rid of expensive ice machine purchases and repair bills forever, with a guaranteed supply of ice you
can depend on. Our subscriptions include:
Premium brand restaurant ice machines
Restaurant ice dispensers and bins
Delivery and installation
Scheduled preventive maintenance
Twice annual cleaning and sanitization
All service, parts, and labor for covered repairs
Breakdown ice if your machine goes down for repairs
Nationwide service
24/7 customer support
One low monthly fee
Easy upgrades that grow with your business
Are you ready to revolutionize your ice supply service?
Why Choose Easy Ice?
Budget-Friendly Commercial Ice Machine Subscription Plan
Sign up with Easy Ice and get a restaurant ice maker for your business starting at only $155/month. All of our subscriptions include preventive maintenance, service, parts, and labor for repairs, professional grade ice machine water filter replacements, and free breakdown ice so you never have to worry about your ice supply again.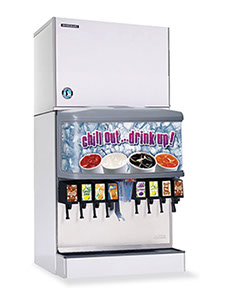 The Ice Need, When You Need It
We are experts when it comes to restaurant ice machines. Just tell us how much ice you need, and we'll create a custom subscription with the right restaurant ice machines, dispensers, storage solutions, and filtration systems to fit your restaurant's needs.
Invest in What Matters
Owning a restaurant comes with plenty of unforeseen expenses. When you work with Easy Ice, you don't have to spend thousands of dollars on a potentially unreliable commercial ice machine. Instead, stick with one low monthly payment and use that extra capital on marketing, staff, and other restaurant essentials. And as your restaurant grows and expands, it takes just one phone call to Easy Ice to have upgraded restaurant ice machines delivered straight to your door.
Repairs Included
Budget with confidence, knowing that with Easy Ice there are no unexpected expenses. Our full-service subscriptions include maintenance, repairs, labor, and parts for your restaurant ice makers in one low monthly price.
Nationwide Service and Customer Support
Multiple locations? No problem. Easy Ice the only national provider of restaurant ice machines on a full-service monthly subscription. When you partner with us, we will supply your locations around the country. That means you have one company, one bill, and one standard for clean and reliable ice. Plus, we offer discounts for plans with 6 machines or more! Save money and hassle with an Easy Ice subscription for all of your restaurant locations.
Energy Efficient
Our selection of ENERGY STAR rated restaurant ice makers reduce energy usage for your business, saving you even more green. We know properly maintained restaurant ice machines are up to 25% more efficient, last longer and perform better, so every subscription includes twice annual preventive maintenance and high-quality repairs.
Peace of Mind
Your restaurant is your livelihood. Have peace of mind knowing you will always have a clean, reliable, and high-quality ice supply. In the case of an ice machine breakdown, we provide backup ice free of cost so you can keep your business up and running no matter what.
A Small Change Makes a Big Difference
Ice machines are essential to the restaurant business. The equipment, repairs, and maintenance that restaurant ice machines require to produce a reliable ice supply are necessary to keep your restaurant up and running.
We take the operational responsibility for the restaurant ice machines off your shoulders by ensuring your ice makers are maintained and cleaned regularly, repairs are high-quality, and back up ice is available when you need it. Spend your time working on your business, and let us take care of the ice.
Purchase an Easy Ice subscription to turn your most unreliable piece of restaurant equipment into a predictably performing asset so you can focus on what you do best: running your restaurant.
Call us today