The purpose of our pre-installation checklist is to provide you with some guidance regarding what is required for a hassle-free ice machine installation.  It is not an exhaustive list.  Our technicians will perform a thorough site survey prior to installation to ensure your location qualifies for an Easy Ice Subscription.
If you would like more detailed information on ice machine installation, please visit our equipment pages and download the equipment specification sheet for the ice machine you are considering.  That will provide you or your contractor with additional details on dimensions and other machine specifications.
For most of our customers, they skim the pre-installation checklist below.  If they can answer "yes" to the items on list, the site survey should go smoothly and we can get an ice machine installed quickly.
Here's a way that might help you remember.  Most people have heard about the "Honey-Do" list.  We call our pre-installation checklist the "Honey-DEWS" list: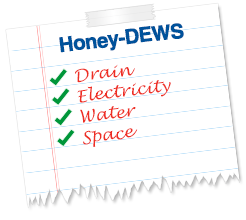 D – Drain
E – Electricity
W – Water
S – Space
Drain:
Floor Drain

Within 6 feet of the machine

Allows for ¼ inch fall for every foot of drain pipe

Doesn't present a tripping hazard
Electricity:
For 110V machines, a 20 amp dedicated circuit

For 220V machines, majority require 20 amp, some 30 amp

220V systems are designed for use with 4-wire system (i.e. dedicated neutral)
Water:
Water line capable of delivering 5 gallons per minute with a dedicated shutoff valve within 6 fees of the machine.

Machines below 1300 lbs require 3/8 inch supply line.

Machines at or above 1300 lbs require a 1/2 inch supply line.
Space:
Maintain room temperature between 45 and 95 degrees F

Allow enough air circulation to ensure hot spots do not develop around the ice machine
We have thousands of ice machines installed across North America and can help you work around many of the typical challenges, so even if you aren't sure we can resolve one of the "No's" on the list, give us a call.
We understand how important it is to have a reliable and predictable supply of ice and will work with you to give you with the peace of mind an Easy Ice Subscription provides.