Our team is available to help you get started today.
You can give us a call or request a quote online.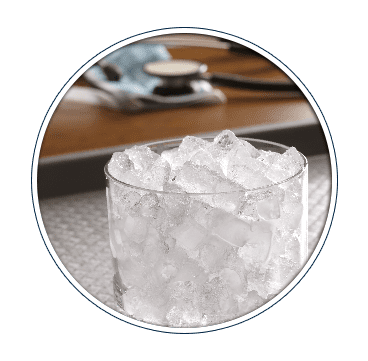 Serve Cubelet Ice to Outshine Your Competition
---
People love cubelet ice, also known as nugget ice or "Sonic ice." The soft pellets are easy to chew after you finish your drink, and the ice soaks up the flavors of any beverage you put it in. From quick service restaurants to hospitals to schools, nugget ice is a crowd pleaser.
Want a nugget ice machine for your business at an affordable monthly rate? You're in the right place. We offer cubelet ice machines through our all-inclusive subscription. Maintenance, repairs, and replacement ice are free.
A Healthy Choice for Schools and Hospitals
---
Cubelet ice comes in different sizes depending on the ice machine model ranging from 3/8" to ½" in width and length. It's a small, soft cube that is easy to chew, making it an excellent choice for patients who need to hydrate but have a hard time swallowing liquid. Its texture also lends itself well in school settings where kids can enjoy chewing on ice without hurting their teeth.
---
Cubelet Ice is Perfect for Drinks and Displays
---
Many bar and restaurant customers love this ice style for its porous nature. Cubelet ice absorbs liquids better than cubed ice, retaining the flavor of drinks. It's ideal for a wide range of flavorful beverages like margaritas, slushes, lemonades, and sodas.
Nugget ice is also malleable enough to mold and hold its shape, which is why restaurants use it for elaborate seafood and salad bar presentations.
---
A Reliable Supply of Chewable Ice
---
We offer the best-performing brands of cubelet and nugget ice makers on the market and the service to match. With biannual preventive maintenance, cleanings, and all repairs included at no extra cost in our subscription, you'll never have to worry about running out of ice. We even give you free replacement ice if your nugget ice machine breaks down!
Key Specifics:
---
Ice Type
Cubelet Ice/Nugget Ice
Brand
Hoshizaki/Manitowoc
Shape
Cubelet/Nugget
Available Models
Hoshizaki:

F-801-C (standard)

FD-650-C (standard)

DCM-300 (standard)


Manitowoc:

Manitowoc nugget ice machine models available for special circumstances

Width
Varies in size
Depth
Varies in size
Height
Varies in size
---
Technical Documents
---
Manitowoc Ice
Hoshizaki Ice
Featured Cubelet Ice Machines