---
The Best Way to Clean Your Ice Machine
Cleaning your ice machine regularly is essential if you want to provide a safe ice supply to your customers and staff. Ice machines are notoriously neglected, which is why they are one of the first appliances health inspectors will check. The best way to clean your ice machine is by disinfecting and sanitizing high-use areas. We've provided this helpful guide to ice machine cleaning to answer all your questions!
Our Ice Machine Experts are here to help!
Call us today!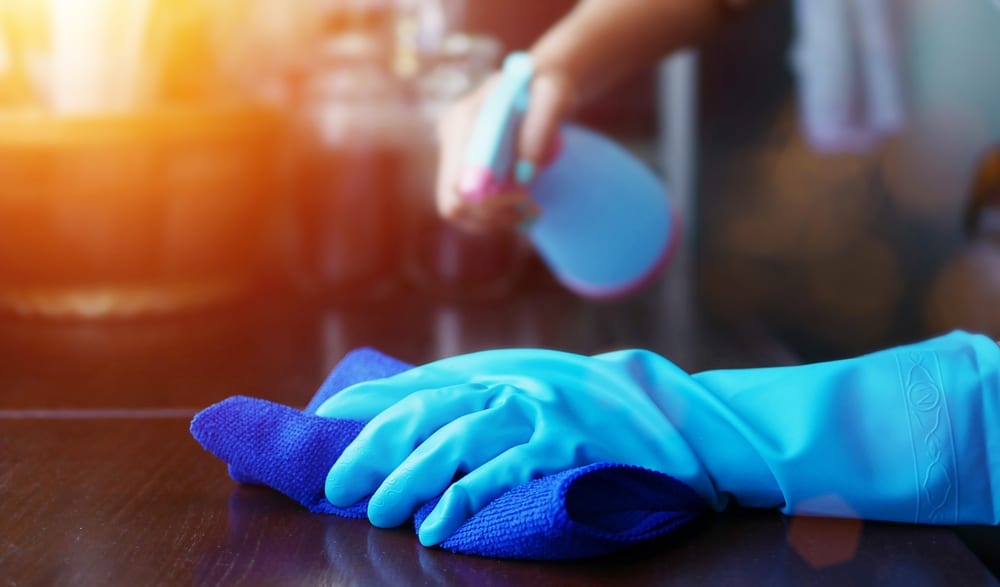 Click a Section Below to Get Started
What's the Difference Between Disinfecting and Sanitizing?
Commercial ice machines require cleaning, disinfecting, and sanitizing to keep your ice supply safe. The best way to clean your ice machine is with soap and water. This helps to eliminate dirt, dust, scale, and grime from your ice machine. Disinfecting and sanitizing are just as important if you want to kill off remaining microorganisms and provide an environment free of harmful contaminants.
Disinfecting Your Ice Machine
Disinfecting involves using a EPA-approved disinfecting agent to inactivate all manner of bacteria, viruses, and mold spores from a surface. Many areas on an ice machine, like the bin liner, are considered food surfaces. Food surfaces require that you apply the disinfecting agent on the surface, leave it for 10 minutes, and then rinse the surface of all disinfecting agent.
Sanitizing Your Ice Machine
Sanitizing is the process of applying a diluted disinfecting agent to food contact surfaces. Follow instructions for sanitization dilution rates. This helps to reduce 99.99% of bacterial contaminants. Unlike disinfectants, sanitizing solutions can be left on a food contact surface to air dry, which gives the solution time to eliminate all contaminants thoroughly.
What's the Best Way to Clean an Ice Maker?
No matter the brand, cleaning your ice maker is necessary to keep ice sanitary, protect customers and staff, and eliminate scale from hard water in your ice maker. Hoshizaki ice machine cleaning and Manitowoc ice machine cleaning processes are generally the same with a few minor differences. Hoshizaki ice machine evaporator plates are made of high-grade stainless-steel, which can withstand highly acidic cleaners. Manitowoc evaporators are nickel-plated and require a nickel-safe cleaner. Using strong phosphoric acids on these machines will cause damage.
Ice Machine Water Filtration
Providing proper water filtration for your ice maker helps to trap contaminants, sediment, and mineral deposits. These substances hinder the effectiveness of your ice machine by clogging distribution tubes and damaging ice maker components. Water filters require replacing every few months, depending on the type of filter. We install water filters on every commercial ice machine we service. There are three types of ice maker filters we recommend:
What Are the Costs of Maintaining an Ice Machine?
Commercial ice machines require professional maintenance and cleaning to stay in working condition. Without them, you'll likely face health inspection violations, lower ice production, and expensive repairs. It's best to contact a qualified ice machine technician to perform preventive maintenance and deep cleaning on your ice maker.
Maintenance
Ice machine preventive maintenance helps to keep your machine running smoothly. You'll need a qualified ice machine technician to optimize the ice machine, so your ice production rate stays high. It also helps technicians spot any potential ice machine issues that can lead to big problems that require expensive repairs. Your average preventive maintenance costs around $300 per visit. Ice machine manufacturers suggest you receive at least two maintenance visits a year.
Professional Cleaning
The best way to clean you ice maker of contaminants is to have your employees perform daily light cleaning. However, ice machines require professional cleaning from time to time. Professional cleanings require dismantling the ice machine and using specialized chemicals to rid the unit of germs, mold, and scale. Manufacturers recommend getting two cleanings visits a year, more if your ice machine is in a challenging environment like a bakery or brewery. Cleanings cost around $250 per visit.
Breakdowns
Ice machine repair costs range depending on the issue. They can cost anywhere between a few hundred dollars to a few thousand. Here are some examples of some common ice machine repairs and their estimated costs:
Hot Gas Valve Replacement - $600
Expansion Valve - $600
Compressor Repair - $1500
Evaporator Repair - $2500
Ice maker breakdowns can severely hurt business and force you to spend hundreds on replacement ice.
Keep Your Ice Machine Clean and Sanitary with Our All-Inclusive Ice Maker Program
Our commercial ice equipment program is more than just an ice machine lease. We make sure your ice machine stays clean and sanitary by including professional cleanings in your already low monthly charge. We also include maintenance and repairs to keep your machine running efficiently. Got an ice machine problem? No Problem! We maintain 24-hour customer support to help you with any ice machine issue. No need to keep track of due dates, because we keep track of your ice machine service. We'll call you when your machine is due for its next service to help schedule the best time to visit.
---
An Easy Ice subscription helps you focus on your business because we handle everything your ice machine needs to stay in top condition.
Contact our team!