Last updated on April 3rd, 2023 at 06:32 pm
To say no one wants dirty ice is an understatement. Keeping your ice machine clean should be a number one priority.  Manitowoc ice machine cleaning not only keeps your ice sanitary, but it also maintains the ice machine's performance. A clean ice machine will operate more efficiently than a dirty ice machine.
Many business owners opt to pay a professional ice machine tech to perform their recommended biannual deep cleanings. Easy Ice subscription customers get to sit back and let us handle it. If you are looking to DIY clean your Manitowoc ice maker, you've come to the right place for everything you need to know.
Deep cleaning commercial ice equipment involves three steps:
Descaling (removing mineral deposits)
Disinfecting (killing microorganisms)
Sanitizing (reducing bacteria and growth build-up)
If you own a Hoshizaki ice machine or Scotsman ice maker, refer to these brand-specific ice machine cleaning instructions:
Keep in mind that this blog should be considered a collection of best practices, but various individual factors cannot be accounted for such as condition of your ice machine, its environment, the cleaning products you choose, etc. We recommend hiring an ice machine technician to handle this process to ensure the safety and continued production of your machine.
Descaling, Disinfecting and Sanitizing Your Manitowoc Ice Machine
Fix or Prevent Ice Machine Slowdowns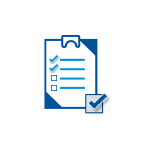 We're the Ice Experts, and we're sharing our secrets with you!

Maintain ice supply & extend the life of your ice maker with our insider approach.

Cleaning commercial ice equipment involves more than wiping away the dirt and grime. Ice machines also must be descaled, disinfected, and sanitized to be considered truly clean.
Descaling is the first step of the cleaning process and involves removing mineral deposits. We'll address it in detail in the Descale section of Cleaning the Interior of an Ice Machine below.
Disinfecting is the process of using chemicals to kill microorganisms like bacteria, viruses, and fungi. During this process, any remaining algae, mold or slime should be removed.
Sanitizing uses a lower concentration of chemicals to drop the number of bacteria to federally recognized health standards. See Important Cleaning Solutions and Dilutions below.
Manitowoc generally recommends two annual cleanings. Some businesses can get away with one, whereas some may need three or four major cleanings every year. Numerous factors affect the frequency of cleaning, including usage and ice machine environment. Of course, in between these more thorough cleans, the machine should be wiped down as needed due to spillage or any noticeable internal or external dirtiness.
Important Cleaning Solutions and Dilutions
While quat-based cleaners can be used for sanitization and dilution, we recommend a diluted solution of bleach and water. The bleach and water combination is just as effective, and most businesses have bleach on hand. Make sure the bleach you use has an EPA registration number; this means it is qualified for use on food contact surfaces like ice machine components.
Bleach will need to be diluted before you use it, and there is a different rate of dilution for disinfecting and sanitizing. Dilution rates may vary depending on the product you use, but below we share our dilution rates to give you an idea of how greatly disinfecting and sanitizing rates differ.
DO NOT mix bleach with other cleaners. The combination can produce harmful, toxic fumes that can cause respiratory distress.
Descaling: Descaling is conducted with a descaler solution, which you can find online. Scale can build up on the ice machine's evaporator assembly, water reservoir, water distribution tubes, or drop zone. We'll explain below how to descale these components.
Disinfection: Due to higher amounts of bleach, disinfectant solution must be rinsed away. To create the disinfectant solution, mix 6 ounces of bleach with 1 gallon of water.
Sanitization: Sanitization mixture should be measured as follows: 2 teaspoons of bleach to 1 gallon of water. Because sanitizing solution is more diluted than disinfection solution, no rinse is required. Local and state health departments may have different sanitization ratio requirements. Be sure to check yours.