Top-rated ice making machines from Easy Ice are 100% hassle-free! That's right — guaranteed ice in your bin without any hassles or stress!
Regardless of the industry, your business needs ice. Which means businesses like yours need professional-grade ice making machines. Providing your customers and employees with frozen water should be simple, right? Until ice machine subscriptions were available, making frozen water was costly, stressful, time-consuming and full of hassles.
As we were developing the subscription model for commercial ice machines, we took all of these issues into account.  We were determined to create an end-to-end solution that eliminates the unnecessary costs and hassles of supplying ice to your company.  And we did it!
Our commercial ice machine subscription solution is the only hassle-free way to keep your ice bin full!
Hassle-free Service
Before we deliver and install your new commercial ice maker, we conduct a thorough onsite survey to ensure you're getting the right type and size ice machine for your needs.  No hassles!
Preventive maintenance service visits are prescheduled for your convenience.  You don't even have to make a phone call — hassle-free maintenance!
Our Customer Service team is available anytime (24/7, 365 days a year).  Have a repair issue at 2 am?  No problem!  We're here for you whenever you need us.
If the ice machine is broken and you're waiting for repair service, we provide you with Breakdown Ice.  That's hassle-free replacement ice!
Hassle-free Costs
Our monthly subscription fees are fixed.  Even if our monthly prices go up next year, you pay the same cost month after month as long as you have our ice machine on site.  Hassle-free budgeting!
Repairs, maintenance, cleanings, water filters and Breakdown Ice are included in your affordable monthly price.  You'll never see another ice machine repair invoice again!  No hassles, stress or additional costs!
Payment is made electronically through from a bank account or credit card.  Hassle-free billing!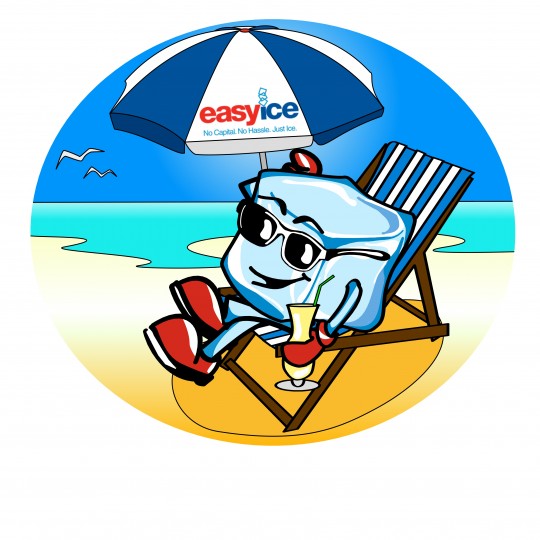 Hassle-free Flexibility
Our commercial ice machine subscriptions include an unprecedented equipment upsizing program.  It's simple and hassle-free!  We want our customers to succeed and grow their businesses and we don't think you should be penalized for your success.
Our upsizing program allows your ice production to grow along with your growing needs.  If you bought an ice maker and you needed a bigger one, you've got hassles!  You'd need to sell the old ice making machine and buy a new one — not a good use of your capital or time.  If you lease an ice machine, you'll be stuck with penalties if you need a bigger unit.
With a subscription, you simply pay a one-time upsizing fee to switch out the ice machine and start paying the monthly fee for the larger machine.  Simple and hassle-free!
Hassle-free Ice!
That's it.  Easy Ice is the only company that offers cost effective and hassle-free commercial ice making machines through subscription on a national scale.  We've purchased thousands of ice making machines for companies across the country and we pass on our buying power savings on to our customers.
Easy Ice has the only Hassle-Free and Affordable ice solution in the country!