Commercial ice machines are necessary in healthcare.  Ice is an important component of healthcare and physicians offices, sports medicine clinics and physical therapy centers need commercial ice machines on site. Healthcare organizations, like many other businesses, are conscious of the bottom line and look to make the smartest and most cost-effective fiscal decisions.
Owning a commercial ice maker is not a savvy business decision. Commercial ice machines periodically break down (because of water and air conditions or lack of proper maintenance).  Ice machine repairs are expensive and unpredictable. Easy Ice offers a commercial ice machine program that supplies physical therapy centers and physician's offices with top of the line Hoshizaki ice makers. Plus all repairs and maintenance to ensure the ice machine is always in service are included.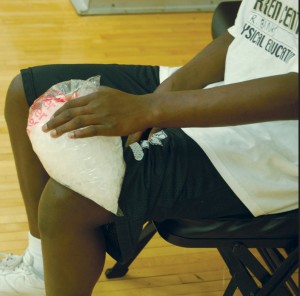 We call our program a subscription because our commercial ice machine program is not a traditional lease. With no capital or no long-term lease required, Easy Ice will outfit your healthcare organization with Hoshizaki ice makers, ice bins and ice dispensers for an affordable monthly fee.
Our commercial ice machine subscriptions are completely inclusive and we guarantee that your ice bin is always full of safe, clean ice. Easy Ice commercial ice maker subscriptions include all preventive maintenance visits and all repairs. Hoshizaki parts and our technicians' labor are always free as are water filter replacements and replacement ice.
With commercial ice makers from Easy Ice there are never extra fees or added expenses. Fixed monthly subscription rate covers everything. An appropriate sized Hoshizaki KM cuber ice machine paired with a DM-200B ice dispenser can service both patient and employee needs in a physician's office environment. The hands-free design protects the ice supply from contamination by human contact.
According to research from the Centers for Disease Control, drinking fountains and ice from a freezer ice maker (such as those found in homes or break rooms) are a common source of bacteria and communicable diseases such as cold and influenza viruses. Since Easy Ice takes care of all ice machine maintenance and comprehensive cleanings bi-annually, our customers can rest assured knowing their customers, patients and employees are receiving the cleanest, food-grade ice available.
The DM-200B ice dispenser is also a good option for physical therapy, rehabilitation and sports medicine centers. With its large storage bin, this ice and water dispensing model, coupled with an ice machine from Hoshizaki's KM or KML series, will ensure plenty of ice for both patients and employees.
It makes sense for physicians' offices and physical therapy clinics to focus on their patients, not their commercial ice machines. For the best no-risk commercial ice machine program, you need Easy Ice.