Hospitals and healthcare providers need a hospital ice machine for their patients and employees.
Hospital administrators are budget conscious and look to reign in expenditures wherever possible. Outlay for capital equipment in hospitals is expensive. Easy Ice can take the burden of expensive upfront commercial ice machine costs from your budget with our comprehensive hospital ice machine subscriptions.
Our commercial ice machine subscription plan eliminates upfront capital and manages costs over time by including installation, repairs, maintenance and cleaning in the monthly price.
Even in the "early years" of owning a typical ice machine, less than 50 percent of needed repairs are covered by the warranty. Easy Ice can keep a commercial ice maker in peak condition for as little as $135 a month. Hospitals want to focus on patients, not finding a reputable repairman for an ice machine.
Easy Ice's full-service plan saves time – one call provides both emergency ice and notifies us to send certified service personnel. Easy Ice also eliminates the pressure to select the right commercial ice machine size up front with the option to upgrade ice machines.Easy Ice offers hospitals and clinics of all sizes a variety of Hoshizaki commercial ice makers, ice bins and ice dispensers to meet their needs.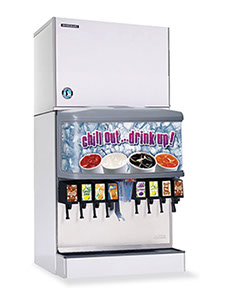 Ice is crucial in many health applications, including physical therapy clinics and physicians' offices.
Hospitals must have a steady supply of ice at all times. Requiring approximately 10 pounds of ice per patient per day, hospitals need a commercial ice maker on every floor or in every wing. One of the Hoshizaki KM cuber ice machines together with the DM-200B ice and water dispensing unit, are an ideal combination. Producing chewable ice, this hands free commercial ice machine model with a sealed bin promotes a cleaner, safer ice supply.
For cafeteria needs, such as food storage in the kitchen and buffet cooling, the Hoshizaki KM-901M model supplies ample ice for most facilities. A KMD-450M or KMD-850M fountain dispenser machine also works well for cafeterias.
Large hospitals may consider the Hoshizaki DM-200B commercial ice maker.  The DM-200B is capable of storing and dispensing almost 200 pounds of ice with water in a 24-hour period and can service employee break room or patient waiting area needs. It can be paired with any of the KM or KML series cuber ice machines.
Our commercial ice machine program is the ideal solution for any hospital or healthcare facility such as long-term care facilities, assisted-living centers and physical therapy clinics.
Call us today to learn how Easy Ice saves hospitals money and hassle with our ice machine subscriptions!