Easy Ice is the nation's leading provider of ice machines for businesses throughout the country. We feature a range of equipment options to meet every industry's ice needs. Our full-service approach to ice machines, called subscriptions, is revolutionizing the ice business.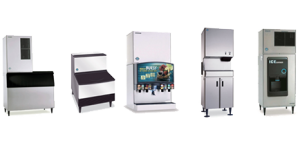 Because every Easy Ice customer has a unique profile in terms of daily demand and usage, we provide everyone with the best ice machine model for their profile. Easy Ice carries commercial ice machines, ice bins, and ice dispensers to suit every type of volume demand.

We've chosen to partner with Hoshizaki for our ice machines because they are durable and dependable.  Hoshizaki manufactures their ice machines in the U.S.A. and they are energy-efficient.  Most Hoshizaki ice machine models are Energy Star rated guaranteeing optimal efficiency, plus saving money in utility costs.
Ultimately, the brand of ice machine doesn't really matter as long as you have a steady supply of ice, right?  A reliable supply of ice depends more on the maintenance, cleanings and repair of the ice machine than the brand. (Although we have found Hoshizaki to be the best!)
Easy Ice subscriptions include all routine preventive maintenance, repairs and two comprehensive cleanings per year.  We also replace the water filters every 6 months.  Standard water filter replacements are Free!  Ice machine subscriptions offer a better and more affordable option to leasing or buying.
We are invested in making sure our ice machines are running at their best at all times.  We have commercial ice machine models that range in production from  200lbs of ice per day to 1500lbs of ice per day. We offer air-cooled, water-cooled and remote ice machine models.  Our equipment is top of the line and fully maintained by our technicians.
Subscriptions using standard ice machine models require No Long-Term Commitment for qualified customers. No long lease plus a penalty-free cancellation policy (with 30 days notice).
Specialized equipment and customers who don't meet our qualifications will be subject to a term lease.  Please contact our customer service team to learn more.  Customer service is available through our toll-free number 24/7, 365 days a year.
We're happy to send a representative to your site for an inspection and to help you choose the best Hoshizaki ice machine model and accompanying ice bin that best suites your needs.
Easy Ice gives you the equipment options you desire at an affordable price. If your business depends on ice, you can depend on Easy Ice!