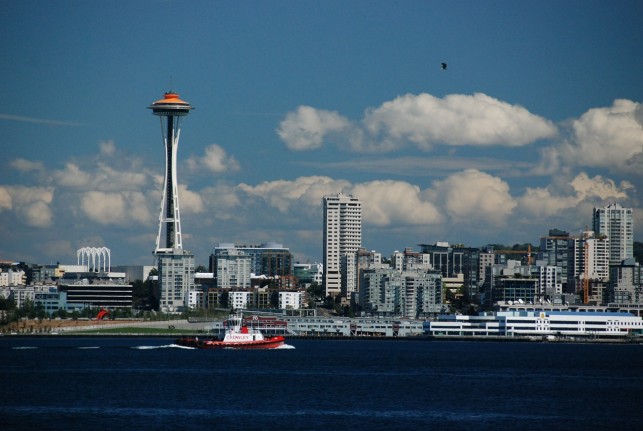 Seattle is one of the greatest cities in the country. Seattle has a phenomenal natural landscape and views, contemporary architecture (including Frank Gehry's stunning EMP at the Seattle Center), famed Pike Place Market and top notch restaurants. The foodie scene is Seattle is abundant and pervasive.
This year some of the second and third rounds of the NCAA regional tournament are in Seattle and we wanted to give you March Madness visitors some ideas for dining while you're in Seattle. The NCAA regionals are at Key Arena in Seattle Center, right in the heart of the city. From the arena, you are in walking (or short cab ride) distance from all the restaurants on this list.
If you're in Seattle for March Madness, you'll want to keep this list handy!
The restaurants in this article were chosen because of their amazing food and cocktails (confirmed by voluminous professional and customer reviews), stellar health inspections and they are all Easy Ice customers, which means you're assured the ice in your drinks is clean and safe. We've listed our restaurant picks alphabetically. You'll find spots for breakfast, lunch, dinner and happy hour.
Are you from Seattle or a frequent visitor? Let us know your favorite dining spots in the comments section below.
Get ready to get hungry! Bon appetit!
9 Million in Unmarked Bills
3507 Fremont Place N
Fremont District
Whiskey bar & restaurant
Happy hour 4-7 daily
"Good drinks, excellent whisky selection. Food was good too. We had the 9 mils salad, lamb sliders and the goat cheese crostini.The goat cheese was amazing" ~ Ree, Yelp reviewer
"One of the greatest happy hours in Fremont, if you ask me. Great cocktails, great popcorn shrimp, great fries, and a cool bartender – what more could a girl want!" ~ Fiona, Yelp reviewer
Cafe Lago
2305 24th Ave E
Handmade pasta, wood fired pizza
Montlake neighborhood
"Authentic and worth every penny. Best Caesar salad dressing I've ever had. Woodfire pizza was cooked perfectly, gnocchi were delicious and in one of the best vodka sauce I've ever had. My wife and I are both Italian and have been looking for an authentic experience in Seattle, this comes very close to being in Italy." ~ Alex, UrbanSpoon reviewer
Casco Antiguo
115 Occidental Ave S
Pioneer Square
Lunch, dinner, happy hour
Opened Jan 2015 (menu included in this Eater review)
"I sampled the pastor and barbacoa tacos as well as a couple of the salsas AND a margarita. Personal preferences aside all were solid, worth the money. It appears to be pretty popular and imagine there will be game days where it is down right packed! If you're in pioneer square and craving some Mexican you owe it to yourself to check her out." ~ Brett, Yelp reviewer
711 Westlake Ave North
Lunch, dinner, happy hour 3-6 daily
BBQ & cocktails
"The house made pastrami is insanely good.  And a word of advice, go for the grilled artichoke with the roasted garlic aioli as a starter.Also, the wait staff was incredibly friendly and easy going.  Great experience." ~ Chris, Yelp reviewer
Trattorial & Bar
416 E. Broadway
Capital Hill
Dinner – Reservations Recommended
Happy hour 5-6, 10pm – close and all-day Monday, 1/2 price wine Weds
Authentic pasta dishes. Gluten-free available
"For me, the menu at Corretto was just right: enough diversity to suit my picky companions, but small enough to ensure fresh and well prepared dishes. We'll be back!" ~ OpenTable reviewer
1703 E Olive Way. Capital hill
Beer, pub grub, happy hour
Great place to watch the games!
"This is the new popping sports bar on Capitol Hill! The owner is a sweetheart! And the bartenders are super fantastic!" ~ Facebook fan
Manhattan Seattle
1419 12th Avenue
Lunch, dinner, brunch (weekends). Happy hour 3-6, 10-close daily
Fine cocktails with southern twist
"Of the four variations on surf and turf, one couples filet mignon with Cajun-spiced shrimp and extravagantly rich white-cheddar grits. The traditional version pairs a 5-ounce filet mignon with a grilled lobster tail of equal weight. Both meat and shellfish were skillfully cooked and came with nicely browned Brussels sprouts on the side"
Rookies Sports Bar
3820 S Ferdinand St
Great place to watch the games – kid friendly dining area. 14 screens. Brunch, lunch, dinner. Happy hours: 4-6pm, 9pm – midnight, M-F
"This sports bar is really well-designed, with "big booths! Kids in restaurant area, but separate bar area! Super cool floor that looks like a former basketball court! This is also a great place to watch sports. Rainier is cheap, Bloody Marys are among the best in town, the wings and burgers are also good. Keep up the good work Rookies!" Loren, Yelp reviewer
5412 Sand Point Way
Laurelhurst Neighborhood
Dinner.
New American cuisine. Upscale apps, pasta, steaks, cioppino
"impressive tasty large mussels that rival "Aqua" on the waterfront, incredible ribeye, amazing fish tacos and a one of a kind burger. That is all!! Try this place!!" ~ Fred, OpenTable reviewer
Shibumi
1222 A E. Pine St.
Dinner only
Ramen is the star attraction
"Shibumi features two bars, one for ramen and one for booze, and plenty of table seating. The vaulted ceilings and blue steel finishes give a slick overtone to some old-world elements, like the hand-burned wood panels to surround the ramen bar." ~ Bryan Cohan, Journalist
Skillet Street Food
6301 5th Ave South
Capital hill, Ballard and Seattle Center: The Counter at the Armory (breakfast, lunch, dinner)
Plus food truck: Airstream on the move! View the calendar of where they'll be next. Owners have "bevy of new projects" coming up!
Items range from our maple braised pork belly and waffle with a fried egg on top, to our burger with bacon jam, arugula, bleu/brie on brioche with beautiful hand cut fries, to our southern fried chicken and legendary kale Caesar salad.
Toulouse Petit
601 Queen Anne Ave N
Queen Anne
Cajun/creole & more
Named one of Top Ten Happy Hours in the Country!
Breakfast, lunch, dinner
Locals and visitors love Toulouse Petit! They have over 2000 Yelp reviews with a sold 4-star rating!
If Melissa D'Arabian says something is a good deal, listen up. Her ultimate dream breakfast of cured pork cheeks with a confit hash (at Toulouse Petit) has an amazing low price! ~ from Food Network's Best Thing I Ever Ate
410 Broadway E
Capital hill
4pm-1am M-F, 9am open for Brunch Sat/Sun, Happy hour daily 4-6pm
Craft cocktails & filling Southern fare served in a space sporting church pews & a lively bar.
From review in The Stranger: "The place feels like a pleasant stage set—clapboard walls with backlit stained-glass windows, pews for booths—and the food is good, the drinks are great, and everyone's very neighborly."