Get a $250 credit towards your setup fee. Call today!
All-Inclusive Subscription for Commercial Ice Machines
Just Like Owning a Commercial Ice Machine, Only Better!
Our full-service subscription program provides you with a reliable supply of clean, safe ice from top-of-the-line manufacturers of commercial ice machines, both Hoshizaki and Manitowoc. Each subscription includes equipment, delivery, maintenance, repairs, and even backup ice starting at just $155/month.
We'll handle your ice making needs with our full-service commercial ice machine subscription, so you can focus on running your business.
With your monthly subscription we include:
Top-of-the-line commercial ice machines, bins, and dispensers
Delivery and installation
Professional grade water filter
Preventive maintenance & cleaning twice per year
Ice machine water filter replacement at each cleaning
All repairs, including parts and labor
Complimentary breakdown ice while the machine is down for repairs
Customer support and dispatch available 24 hours a day, 7 days a week
Simple ice machine upgrade program
30-day cancellation policy for qualified customers
Budget-Friendly
Our monthly subscription service will do just that. Save money when you sign up with Easy Ice and get commercial ice machines for your business, starting at only $155/month. All of our subscriptions include:
Preventive maintenance
Service, parts, and labor for repairs,
Professional-grade water filter replacements, and
Free Breakdown Ice
Expert Advice Included
Not sure which machine is right for you? Don't worry. We specialize in choosing the perfect ice machine. There are plenty of commercial ice makers and brands out there, and you only want the best. You could spend weeks researching the best commercial ice machines in your area – or tell us how much ice you need, and let us take care of the rest. One phone call to us is all it takes to cross your commercial ice machine needs off your to-do list for good.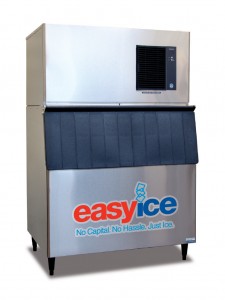 No Big Capital Outlay
Do you want to spend thousands of dollars on a commercial ice machine purchase? Think about it, for that price you could get years of our full-service ice subscription, with repairs and maintenance included.
Buying a commercial ice maker is a big (and expensive) commitment. What will happen to your commercial ice machine when your business grows, and you need to upgrade to a larger size or move to a new location? With the Easy Ice commercial ice machine subscription service, we can pick up your old machine and deliver an upgrade straight to your new place. Easy!
Repair Costs are Covered
No more money out of your pocket, no more unexpected costs, and no more worrying how to make ends meet because your commercial ice machine malfunctioned again. With our Easy Ice full-service partnership, repairs, labor, and parts are all included in one low monthly price.
Multiple Locations? One Point of Contact
We are the only national provider of commercial ice machines on a full-service monthly subscription. When you partner with us, you save time and money. No more balancing budgets at multiple locations across the country, all of which are working with different ice machines, companies, and costs. No more questioning the quality of a provider or wasting time vetting new ice suppliers.
We also offer discounts that start when you reach six ice machines and more savings when you sign up for eleven or more commercial ice makers.
Environmentally Friendly
Did you know the average commercial ice machine lasts only seven years? However, every Easy Ice subscription comes with biannual maintenance services that allow our commercial ice machines to last for years. That means more efficiency and less waste.
What's more, a properly maintained ice machine will also be up to 25% more efficient, saving energy and money. How's that for going green?
Simplify Your Ice Supply
With Easy Ice, you'll get equipment, delivery, repairs, maintenance, and reliable commercial ice machines in your business and customer service whenever you need it.
Are you ready to revolutionize your ice supply service?
Call us today