If you need extra ice for a special event, we can definitely help you.  However, extra ice, also known as Peak Ice, is Not included in subscriptions.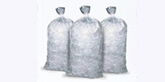 We want to be the total solution for all your ice needs.  Through out strategic partnerships, our subscriptions cover the country (Ecolab), we use only the best ice machines (Hoshizaki) and we're partnered with the country's largest ice producer, Reddy Ice. With Reddy Ice and other regional ice makers on our team, we're able to set our customers up with Peak Ice for special occasions.
We charge market price for Peak Ice.  Extra ice isn't free, but it sure is convenient!
We're your one-stop-shop for all things ice!  If you anticipate needing extra ice during the holidays or for a special event, please give us 48 hours notice to accommodate your needs.
At Easy Ice, we take our customers' needs and success to heart.  We do everything possible to ensure all of your ice needs are met. Our Customer Service team is ready to help you 24/7 at our toll-free number.
If you find that you are needing extra ice on a regular basis, it may be time for an ice machine upgrade.  Our ice machine subscriptions include access to our equipment upsizing program.  And it's easy!  For a small, one-time fee, we can upgrade your ice machine to a larger unit.  Once you receive the bigger-producing ice maker, you simply pay the new fixed price for that model.  Simple!
If you have additional questions about Peak Ice, please call Customer Service. We're available for your calls whenever you need us!