Approximately 12 million people in the U.S. have food allergies — that's more than 1 in 25 of us! 8% of kids have food allergies, some of which they will outgrow. But the adult onset of food allergies is becoming more common.
When a family member has a food allergy, whether mild or severe, dining at a restaurant becomes more complicated. Can the restaurant accommodate your food allergies? Do they have menu items that fit your dietary needs? What restaurants do other folks with food allergies frequent to find the safest dining options?
These are the questions Paul Antico asked himself, as 3 of his 5 children have food allergies. Not finding answers, Paul, an investment portfolio manager at Fidelity at the time, decided to fill this need by creating AllergyEats. I had the opportunity to sit down with Paul as he prepares for AllergyEats' 3rd annual Food Allergy Conference in New York City. The conference is for restaurateurs and foodservice professionals who want to increase customer loyalty, sales, and health through better allergy-friendly practices.
The Iceologist: Please give me an overview of AllergyEats.
Paul: AllergyEats is a free app for consumers that lists virtually every restaurant in the U.S. — we have over 750,000 eateries in the database right now. The app is a user guide to allergy-friendly restaurants across the country which are peer-rated for their attention to consumers' allergy concerns. We already have tens of 1000's reviews.
The Iceologist: Cool! How many people are using the app?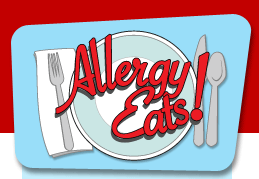 Paul: We've had over 100,000 downloads so far and we won App of the Year.
The Iceologist: That's awesome! What are the major food allergies that restaurants need to consider?
Paul: The Big 8 are: peanuts, tree nuts, fish, shellfish, dairy, eggs, wheat, and soy. The biggest concern is gluten right now, although it's not the most common allergy. The most common serious food allergy in adults is shellfish, especially shrimp. Sensitivity to foods run the gambit from mild stomach irritation to a potentially deadly, systemic reaction. And you never know when a mild food allergy will turn potentially dangerous. I think about that every time I eat a peanut M&M (laughing).
The Iceologist: Restaurateurs obviously don't want their guests getting sick. Beyond that potentially bad publicity, why should restaurants pay more attention to becoming allergy-friendly?
Paul: Restaurants have a big economic incentive by accommodating customers with allergies. The ROI and increase in profits are huge! By our estimations, an allergy-friendly restaurant can increase profits by 25%. Plus customer loyalty increases. When I find a restaurant that can accommodate my family's food allergies, it becomes a restaurant we go to frequently.
The Iceologist: Sounds like a no-brainer to me! Tell me about the upcoming conference. What can restaurateurs expect to learn?
Paul: For the third year in a row, we've lined up some of the foremost experts in the field to present at the AllergyEats conference. We'll cover topics including how to train your staff, modifying recipes for guests with food allergies, the positive financial impact of doing this right and food allergy basics. Our attendees (restaurateurs, foodservice professionals in education) will hear from restaurants who are doing it right, physicians, chefs, and food allergy experts. This year's conference will be bigger, badder and better than ever! We want to support and reward companies that are doing it right, like Red Robin and P.F. Chang's. Red Robin has been on the cutting edge of commitment to being allergy friendly, and their Director of Food Safety and Quality, Robin Hamm, will be speaking at the event.
The Iceologist: The AllergyEats conference sounds like a don't-miss event! Thanks for your time, Paul. I've learned so much in this conversation — too much for just one article!  Stay tuned readers for a followup blog with more information about food allergies and AllergyEats.
The conference is October 21, 2014, at the Radisson Martinique on Broadway in New York City. There's still time to register and group discounts are available. Increase your restaurant's customer engagement, loyalty, and revenue by addressing the needs of your guests with food allergies. Your restaurant can be allergy-friendly And immensely profitable!