Before You Buy a Commercial Ice Machine, Consider a Smarter Alternative
Commercial ice machines are often considered one of the least reliable pieces of major kitchen equipment. They are expensive, hard to clean, require a lot of maintenance, and don't add to your bottom line. Unfortunately they are a necessity for many businesses, so it's no surprise you're looking buy a commercial ice machine. At Easy Ice, we've made it our mission to eliminate the frustrations that come with buying, renting, or leasing an ice machine.
Instead of selling or leasing ice machines, we offer an all-inclusive monthly subscription that includes everything from top-of-the-line commercial ice makers to preventive maintenance and repairs. We'll even provide backup ice if the machine is ever down for repairs.
For as little as $155/month, you'll get:
All covered repairs, including parts and labor
Preventive maintenance 2x a year
Cleaning & sanitization of ice making equipment 2x a year
Backup ice if the machine is down for repair
All the ice you need with none of the hassle!
Is There a Better Option than to Buy a Commercial Ice Machine?
When you don't buy a commercial ice machine, you also don't buy the problems that come with it. We take care of all the maintenance, cleaning and upgrading, all factors that contribute to the total ice machine cost. Easy Ice can even apply our bulk discounts later if you choose to install more units. It's as automatic as an automatic ice machine can get!
At Easy Ice, our greatest priority is to provide a clean, reliable and cost-effective ice supply for all of our customers. To do this, we have formulated our subscription plans so you can right-size your ice supply and equipment. Our subscriptions not only include commercial ice machines, but also bins, dispensers and stands, so we've got you covered whether you need 200 or 2,000 lbs of ice per day.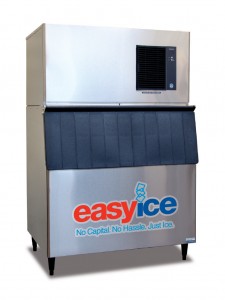 An All-Inclusive Subscription is Better than Owning
Multiple Locations and Bulk Pricing
Have multiple locations or a large facility that needs several ice machines? Easy Ice makes that easier too! Not only do we provide ice machine subscriptions across the country, we offer increased discounts when you have multiple units.
Choose Easy Ice for Your Commercial Ice Maker Needs
Easy Ice provides an ideal alternative to buying and leasing whether you own a new business and aren't prepared to invest thousands in an ice machine, or you run an established enterprise and are tired of bleeding cash. To find out more about what we can do for you, call us