Last updated on October 28th, 2022 at 10:43 am
Not all business environments are ideal for ice machine condensers. The condensing component is critical for making ice, so luckily, there are remote air-cooled condensers that can help solve environmental challenges!
If you've been told you'll need a remote condenser installed or you suspect one is in order, you're probably wondering: how does a remote condenser installation work and which professionals help me with it? Our Ice Machine Expert technicians have extensive experience planning and performing remote condenser installs when business environments necessitate it. Keep reading for an overview of what's involved in a remote condenser install.
What is a Remote Condenser Ice Machine?
There are three kinds of ice machine condensers. Two of these condensers are inside the ice maker; these are called "self-contained" ice machine condensers. Self-contained condensers may either be water-cooled or air-cooled.
The third kind is the remote condenser, which is located away from the ice machine. Remote condensers are only air-cooled, never water-cooled. They are often located on rooftops, though they may also be placed on a side wall of a structure, in a back parking lot, or in a parking garage.
Why Do Some Ice Machines Have Remote Air-Cooled Condensers?
Remote condensers are not one of the traditional choices for commercial ice makers and are, instead, a solution for environmental challenges some businesses face. Remote condensers are recommended when two issues are present:
The location does not allow for an air-cooled ice machine due to heat caused by insufficient air condition or lack of ventilation or unventilated or the location has too high a concentration of airborne contaminants (like yeast) to allow for an air-cooled condenser.
The location does not allow for the installation of a water-cooled unit due to water restrictions, cost or conditions.
When a combination of these factors is present in the ice machine environment, your ice machine dealer or technician will recommend utilizing a remote condenser in a location with high air flow and cooler temperatures.
What is Involved with Installing an Air-Cooled Remote Condenser?
Fix or Prevent Ice Machine Slowdowns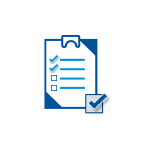 We're the Ice Experts, and we're sharing our secrets with you!

Maintain ice supply & extend the life of your ice maker with our insider approach.

All remote condenser installations are unique to the business's needs, the environment, desired placement of the remote condenser, and path of access for refrigeration and electrical lines to reach the remote condenser. Your ice machine technician will give you a list of the specific contractors or services you'll need to engage, but here's an overview of what to expect with your remote condenser install:
More than one ice machine service technician is needed to hook up the ice machine. This is because one tech will be stationed at the ice machine to feed through the refrigeration and electrical lines (called the lineset), and another will be at the remote condenser location. Oftentimes, a third tech is engaged to guide the lines from ice maker to condenser.
A roofer or general contractor is usually required to create the roof or wall penetration for the refrigeration and electrical lines to pass through to the condenser. This contractor will also seal the penetration point on the roof once the lineset has been run.
A crane is needed anytime the remote condenser is to be installed above the height that regular ground level equipment can access.
Roof access for a rooftop install or other access to the remote condenser location is required. Some machines are installed in locked cages (such as ones in public parking lots) to deter theft of internal components, so be sure to have the key or combination to such units. The last thing you want is to line up all the service providers for a remote install and then forget to have the landlord unlock doors or give access to the area.
Permits may also be required to add the remote condenser. Check on your local regulations or ask your ice machine installer.
An electrician may be required for some nonstandard installations to create a separate power supply for the condensing unit. Most remote condensers get their power from the ice machine, not from a separate source, but there are exceptions.
Continued Access for Servicing Remote Condensers
Manufacturers recommend deep cleaning ice machine condensers at least every six months. A clean condenser can prevent all kinds of ice machine issues. However, it is not safe for you to clean your own remote condenser. Though some customers choose to clean their ice makers' self-contained condensers, cleaning a remote condenser should be left to the professionals. For this reason, it's important to keep in mind that service techs will need to be able to access the condenser for these biannual deep cleans. Be sure to keep a key on hand if the remote condenser is locked in a cage or on a roof.
If you are an Easy Ice customer, you know we deep clean your ice maker and remote condenser for you, in addition to handling any necessary repairs and maintenance. We even schedule the regular cleanings ourselves, so you don't have to keep track of a deep cleaning schedule.
We Make Ice Easy!
An Easy Ice subscription makes it easy for businesses to get access to the best ice maker brands and the right ice equipment for their exact environment – including remote condenser ice makers, when necessary. For one low, monthly rate, we provide top-quality ice making machines, regular maintenance and cleanings, repairs, and back-up ice if the ice maker is down for any reason. Our knowledgeable technicians are the only ones in the industry who specialize 100% in ice machines, so Easy Ice customers' ice supply is in highly capable hands. If you own an ice machine, call 866.327.9423 to see if we provide service in your area.
We are committed to being the number one ice machine resource, so feel free to peruse our Ice Machine Care blogs for answers to any other questions you might have.